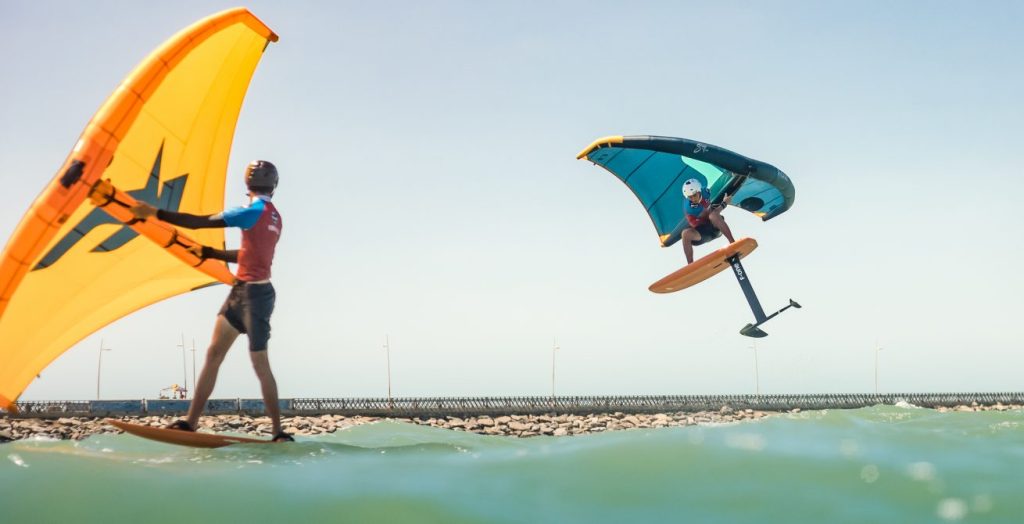 Picture this: You're gliding above the shimmering turquoise waters, gazing at the breathtaking northern coastline of the Dominican Republic. The warm Caribbean breeze caresses your skin as you prepare for an aquatic adventure like no other – wing foiling. This exciting fusion of surfing, kitesurfing, and windsurfing has captured the hearts of water sports enthusiasts, adventurers, and thrill-seekers around the world.
Wing foiling isn't just a sport; it's an art that requires a mix of athletic prowess and gear know-how. It's all about harnessing the power of the wind to gracefully glide over the water's surface. You'll take flight with the help of a foil and steer using a wing – it's an exhilarating dance with the elements.
In the Dominican Republic, there are some fantastic spots to perfect your wing foiling skills, and leading the pack is Cabarete. Known for its perfect conditions, this place is not just a beach paradise for waves and winds; it's also home to numerous schools and centers dedicated to sharing their water sports wisdom. These establishments offer lessons and gear rentals for both beginners and aspiring enthusiasts.
The trade winds from the Caribbean are a constant presence along the island's coastline, providing the ideal environment for wing foiling novices, experienced practitioners, and those who want to conquer both waves and sea breezes.
But there's more to wing foiling than just the adrenaline rush of skimming the water and soaring above the waves. It's a unique communion with nature. As you sail along the coast, feeling the wind against your face and the vast sea beneath you, a sense of liberation washes over you – an experience that's truly one-of-a-kind.
Even though wing foiling is relatively new to Cabarete, its roots stretch back over a decade, despite the sport itself dating back to the mid-80s. As this discipline gains followers worldwide, Cabarete has emerged as a haven for wing foiling enthusiasts. The city's championships and competitions have attracted internationally acclaimed athletes to its waters, solidifying its reputation as a global hub for Caribbean water sports.
Wing Foiling, also known as The Caribbean Hotspot
The appeal of wing foiling against the backdrop of Caribbean beaches has turned it into a major draw for tourists seeking unique experiences in the region. The Dominican Republic, with its historically significant island of Hispaniola, is no exception. Across various beaches, the country's distinct climatic conditions set the stage for thrilling aquatic adventures.
Wing foiling journeys unfold in diverse settings, each offering its own level of challenge. Let's dive into some of the regions and provinces where outstanding beaches beckon wing foiling enthusiasts:
Las Terrenas: Nestled in the Samaná Valley, this town seamlessly blends consistent winds and inviting waters, providing a gateway to adventure fused with natural beauty. The waters of Samaná offer enthusiasts unforgettable escapades and unparalleled experiences.
Playa Grande: Located within Rio San Juan, wing foiling takes on a whole new level of awe-inspiring excitement. This hidden gem along the Dominican Republic's northern coastline offers a unique wing foiling experience that's second to none. With its luxury retreat and virgin beach surroundings, the opportunity to ride and being out become an experience on its own. Depending on the season, you can find tranquil waters, for a smooth ride, or test out some extreme riding when the tide is high.
Punta Cana: A tourist magnet, Punta Cana's expansive, tranquil beaches create the perfect playground for beginners seeking the thrill of gliding over water through wing foiling. The summer season offers a bit more of a consistent wind to be able to go out and testing your skills.
Puerto Plata: Known as the "Atlantic Bridge" within the Dominican Republic, Puerto Plata boasts pristine beaches and impressive wind patterns. It challenges even the most seasoned wing foiling athletes, especially in its more formidable waves.
Cabarete: The ultimate wing foiling capital, Cabarete takes the spotlight. Consistent winds and protected waters come together perfectly here, catering to enthusiasts of all levels. Check out all the videos we have created from gear to our favorite spots to ride on our Youtube channel.
Within the Dominican Republic, a welcoming water sports culture embraces enthusiasts as part of a close-knit family who share a passion. For newcomers eager to dive into the sport, exceptional schools and instructors await, offering guidance from the basics to advanced techniques.
If you're on the lookout for an exhilarating adventure in the turquoise Caribbean waters then look no further than Liquid Blue Cabarete. Don't hesitate to reach out – or better yet, come visit us. Together, we can embark on a journey of exploration, discovering the incredible range of top-tier equipment we offer, all tailored to provide a world-class adventure like no other.
Can't wait to see you out there!
CONTACT INFO
Liquid Blue Cabarete provides wing foiling lessons and equipment rental services, making sure that you get the most out of this extreme water sport! You can chat with us via WhatsApp at +1(849)201-8694 or email us at [email protected]

YouTube Instagram Facebook Blogs