Hey guys!
Welcome back to Liquid Blue Cabarete.
Today we will be talking about Wing Foiling, and give you a few tips on how to start & how to practice this sport. Wing foiling is developing very quickly here in Cabarete and we hope you will be next to learn.
Once you are into this sport, you will realize things change very quickly as it is developing pretty fast.
Whatever you may read here, in a few months might be completely different as everything is changing and evolving as we speak.
Here at Liquid Blue we do recommend having some kind of experience in foiling, surfing, kitesurfing or paddle boarding before getting into this sport. This for sure will help you get started.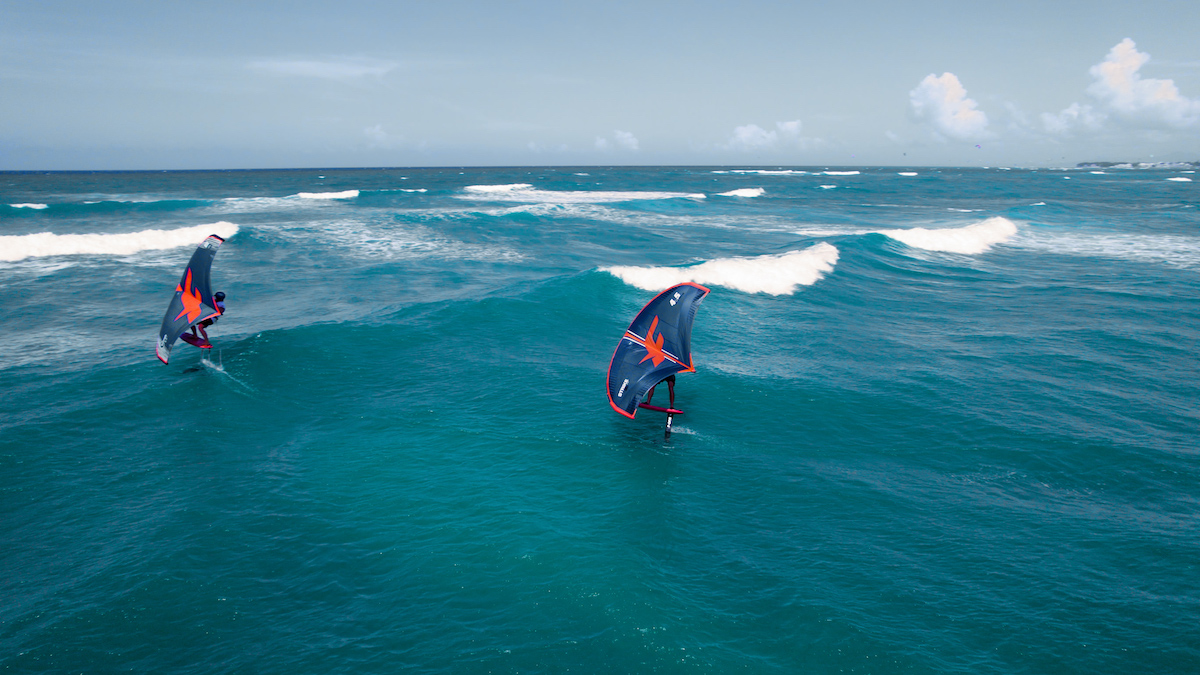 Picking a board
Starting with a 100-130 liters board is a good way to start, the bigger the board, the easier it will be to stand up and ride for the first time.
Another factor to consider is the length of the board. The shorter the board , the more difficult it will be. Just make sure you start with a board that is adjusted to your weight and skill level – more volume will help though too much might make it more difficult.
Pick a Mast
Depending on where you are riding and the conditions, you will need to pick a mast & wing that will work out just for you, and your location. If you are learning in a spot with a lot of chop, a longer mast will for sure help you out. Although if you are practicing wing foiling in a spot with flat water a 65 + will be very manageable.
Pick a Wing
As you progress in this sport you will realize that you would like to move your setup a bit backwards.
You really need to mess around and test things out for yourself in order to find out what setup you like best.
How to stay safe while winging
Before getting in the water when you are trying to learn how to wing yourself, make sure you check out the location first, and double check where you will end up if you go downwind. This sport is amazing, although like any extreme sport, you do want to be cautious no matter how much experience you have.
Make sure the spot is safe and you will not be blown out to sea or getting lost.
Use a helmet & impact vest
Two leashes is the way to go.
Getting in the water
Once you have your equipment set up and your wing pumped ideally the best thing to do is practice on the beach for a little bit and get comfortable with how the wing moves. If you are wondering on what hand to put the leash, it is totally up to you and how you feel more comfortable.
A few maneuvers you should be comfortable with before getting in the water are:
Flipping your wing over.
How to gain control of your wing depending which side you will be riding.
Remember it this way, hopefully it helps!
With your front hand you steer, and with your back hand you are trying to control power.
Once you practice and have some better wing control it is time to go in the water.
As soon as you are in deep enough water you should start winging on your knees and getting the hang of it.
Keep practicing until you have full control of the wing and board before trying to stand up!
Thank you for reading this and supporting us!
We hope you learned a couple of new things today and can't wait to hear from you how it went!