Santo Domingo is rarely seen as a destination to visit for those water sports enthusiasts because it is a crowded city with millions of people.

From mega shopping malls, traffic jams, high rise buildings, Ferrari dealerships, exquisite restaurants your days in the capital of the Dominican Republic will be fast passed and loud!
Wether one might believe it or not there are actually many experiences that tourists as well as many locals don't know about or have lived.

An underground, entertaining, and educational experience is the one of KahKow in the colonial zone.

The KahKow concept emerged 15 years ago out of the Rizek family century long experience in cacao production.The name KahKow comes from cacao + know how…
Under the shadow of the Dominican cacao trees, we harvest some excellent raw material to make chocolate: our world- class cacao.

At Kahkow Experience we want to immerse our visitors in the transformation of how a simple cacao pod is turned into a fine and exquisite chocolate, in a tour unlike any other!

The Kahkow Team
This unique experience starts off in a holographic theatre. Where individuals will learn about the origins and history behind the Rizek's company and its Cacao.
After the short documentary is shown you will pass into their Mystical Forest where you have the opportunity to taste the delicious cacao bean and learn about the post-harvesting techniques.
Get to know the origins of the delicious chocolate at our Holographic Theatre.

Then in our Mystical Forest taste the delicious cacao bean and learn about the post-harvesting techniques. Continue the journey and get into our Sensory Room where you'll use your five senses to appreciate the ingredients of our exquisite chocolate.

https://cacaotour.com/kah-kow-tours/
Once you come out of this immerse experience you will know more than most about Cacao and Chocolate.

When you thought it couldn't get better you will get a hands on experience in the KahKow Factory with your chance to make your own custom chocolate bar to bring home : )
Come and create your own chocolate bar at our Kahkow chocolate factory, here the fun continues and chocolate comes to life!

https://cacaotour.com/kah-kow-tours/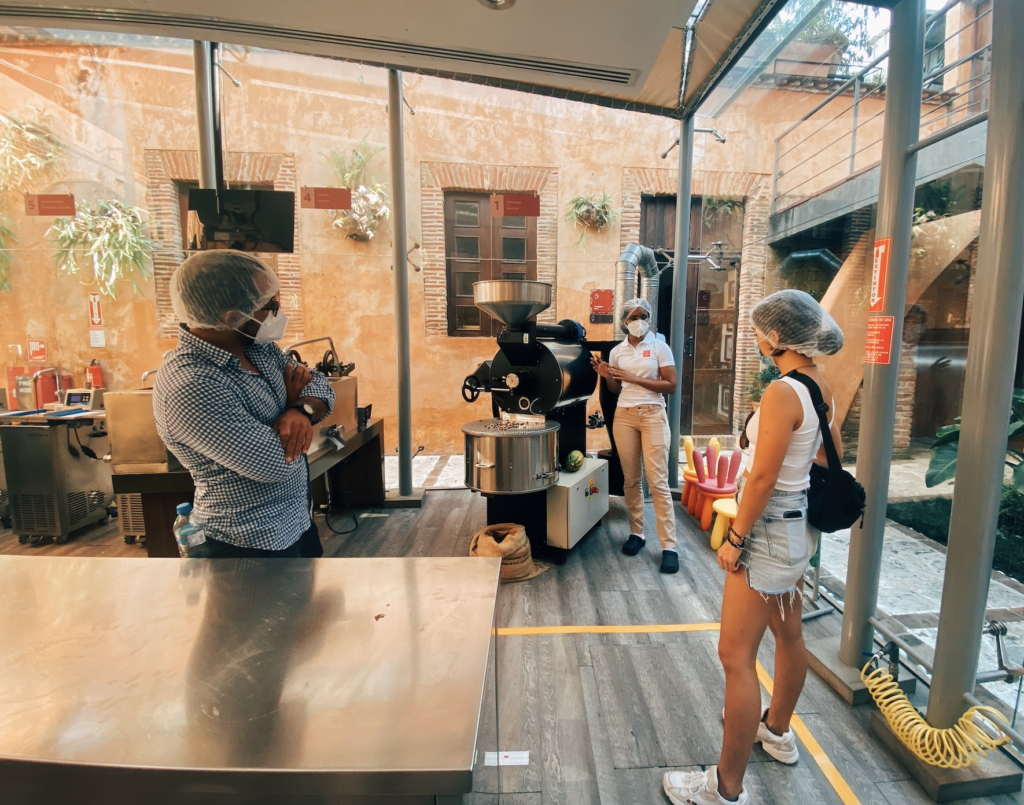 Creating your own chocolate bar, is a very cool and rewarding experience, especially if you are a chocolate lover!
The best part is that the KahKow team is very well informed and friendly. They will not only help but explain every step into making the most delicious and prettiest chocolate bar you have ever seen.
You can decor your bar however you like ; here were our results
After spending some time at the chocolate factory, you will now move to the soap lab, and will make your own personalised soap.
Make your own soap with our cacao butter formula made by our workers at La Esmeralda and add a special touch with your preferred aroma.

https://cacaotour.com/kah-kow-tours/
Experiences should not only be pure entertainment (Even though that is alright from time to time) they should also be valuable (educational).

The KahKow experience is as such, it is truly an experience worth living and not just reading about!

We highly recommend this tour to anyone who is visiting Santo Domingo and would like to do something different other than just sit in traffic.
The factory is located in Zona Colonial and can be done in the following languages: French, English, Spanish and German. Price range from 8 to 15 USD. You can complete the entire experience from A to Z within a few hours!
Wether you believe it or not… we actually do recommend people to spend a few nights in the Capital.
Even though it is not Cabarete it is in its own right a city that has some experiences worth experiencing and this experience is one of them… and again…. who wouldn't want to visit the factory of one of the best chocolate ever made in the Dominican Republic?

If you are curious about KAHKOW, CACAO EXPERIENCE or RIZEK CACAO check out these links:
https://cacaotour.com/kah-kow-tours/

If you want to talk to us directly just send us a message through our contact platform here http://www.lbcabarete.com/contact-us/