Kitesurfing for beginners with Liquid Blue Kite & Wing School in Cabarete.
Why choose Liquid Blue Cabarete as your kite school?
Liquid Blue offers the most high-end sports equipment used and new as well as offering tours and sports lessons around Cabarete and the North Coast. From kiting lessons to surf intel, to even suggestions on where to go, what to visit, transportation, and delicious food spots. We will make sure you have an amazing vacation, through great communication, professionalism, and the most fun, experienced instructors.

What to expect when taking classes with Liquid Blue Cabarete?
Try your favorite sport! From knowing nothing to riding in Cabarete! We make sure you get a five-star service and get to learn what we love the most in the most beautiful Caribbean town!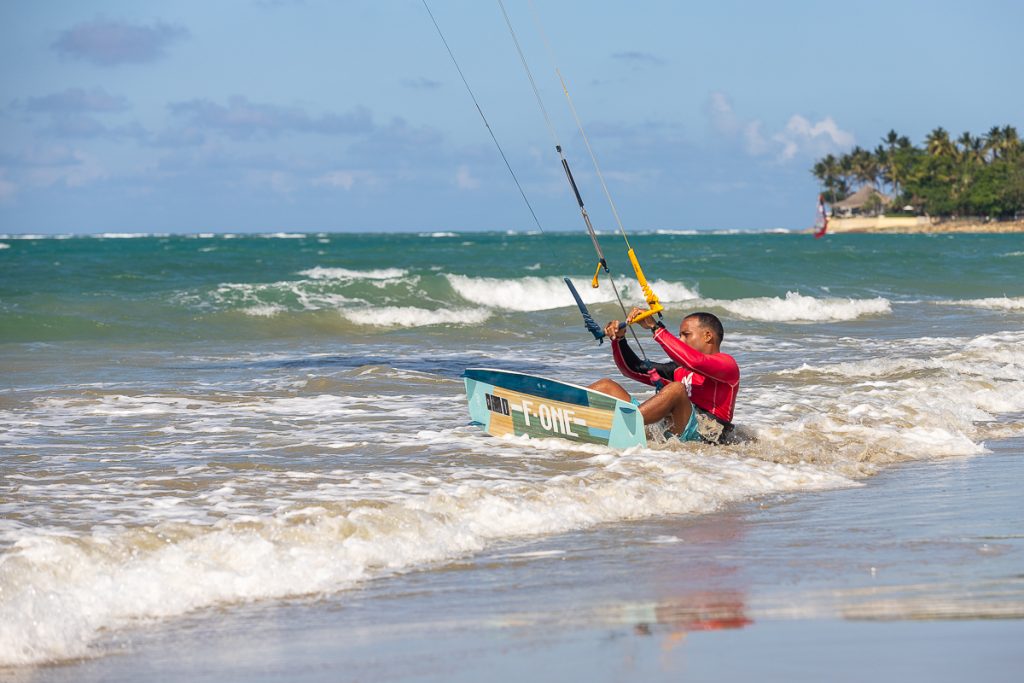 About Kitesurfing in Cabarete
Kitesurfing is the world's fastest-growing extreme sport, it generates lots of adrenaline, it is quick to learn and it's really fun!
If you are a beginner don't worry! In this extreme water sport, you can progress super quickly from the 'total beginner' stage. It takes a lot of practice and good motivation, some rest, and a lot of fun!
We at Liquid Blue Cabarete will be your personal kiteboarding instructors. Qualified, professional and with the best gear in town!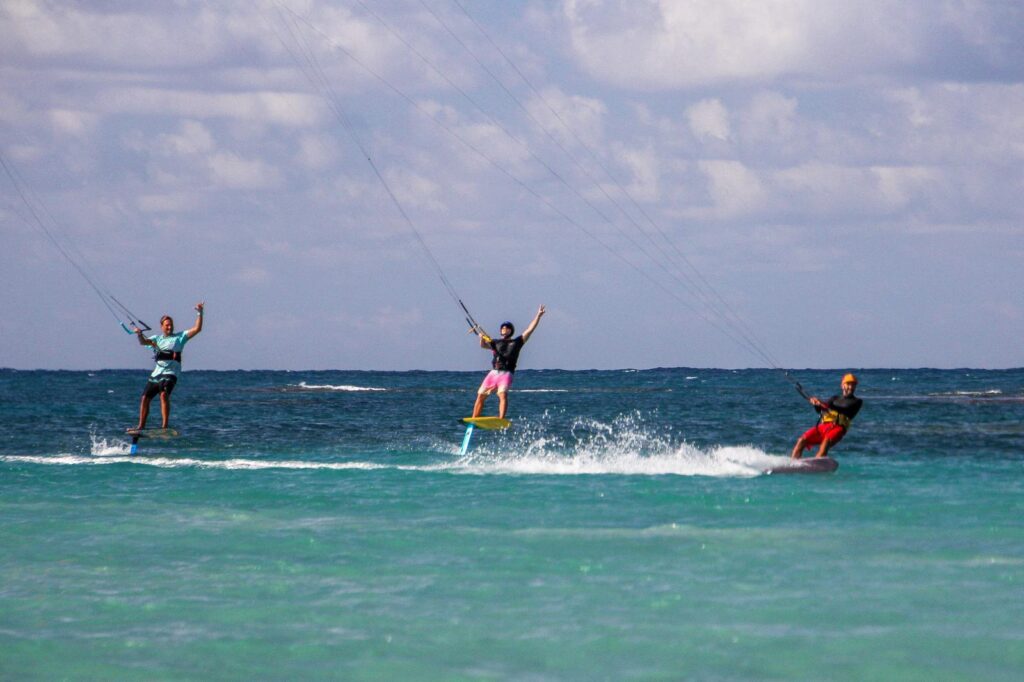 ---
Kiteboarding Lessons for Beginners
STEP 1: LAND LESSONS
At Liquid Blue, we like to take our time with you, validating every step you take towards becoming an independent kitesurfer. Just so you know, there are 2 steps in your kiteboarding training – first on the sand and then in the water.
Accordingly, we will teach you kiteboarding in a safe and fun way in 10 steps:

Land Lessons – Introduction to Kiteboarding (~2 hours)
1. Fly the trainee kite to get a feeling of the wind and power of a small kite.
2. Learn the theory of flying a kite, wind speed and direction, wind windows and power zone.
3. Set up the real kite, lines and other equipments and pre-flight check.
4. Train on launching the kite in normal wind condition with assistance.
5. Control of the kite in normal wind condition and learn kite position that create or reduce power. Several exercises will be used in this step.
6. Fly the kite without assistance and understand all safety system
7. Launch and land the kite without assistance.
About Land Lessons
***All these steps have to be completed by the student before we jump to the second part of our learning session in the water. At LB, we understand that everyone learns at a different speed and we will certainly take enough time for you to feel confident about your skills and ability to fly the kite safely and understand each step.
Just remember that your instructor will always be on your side, watching your every movement and giving tips on how best to handle each situation. Don't be shy, if you don't understand something, put your hand up and ask questions, we are here for you!
Private lessons and Group lessons are available for On Land Courses – maximum of 2 or 3 students per instructor.
For this course, Liquid Blue Water Sports Center will provide you with all the equipment and gear such as an appropriate size kite, board, and harness. We suggest you to bring your swimming clothes, water, sunglasses, t-shirt, and sun cream.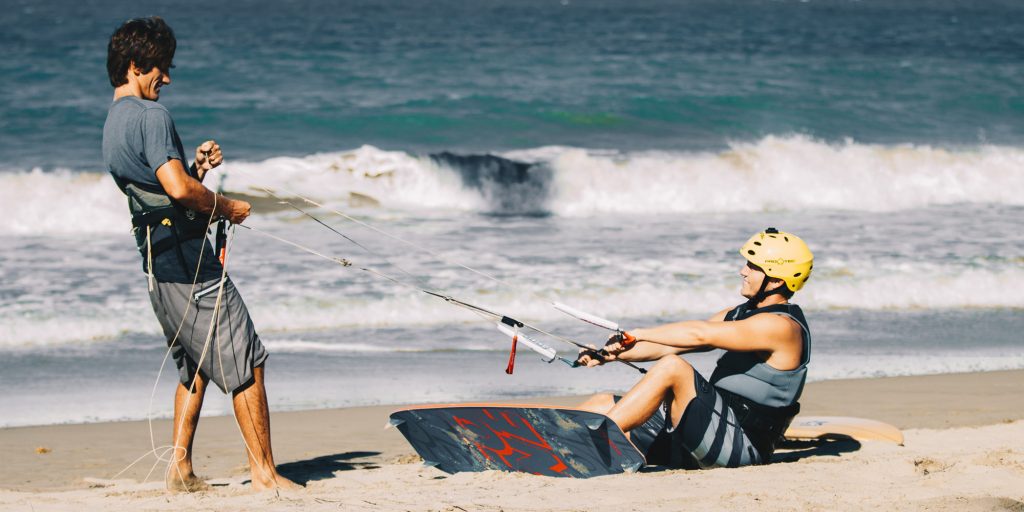 STEP 2: WATER LESSONS

After taking our Introduction to kiteboard on land, you are now fully ready to jump in the water and on the board!
Flying the kite in the water is slightly different than on land, so we will practice flying the kite in shallow water, performing safety and self-rescue exercises. We will also have fun while using the body as a board to understand the power of the kite in different positions.
Here are the steps we will take to reach our goal:
Water Lessons – Progression in Kiteboarding
8. A series of exercises will explain to you how to relaunch your kite when it crashes in the water and how to handle the specific situation while kiting.
9. Body surfing and body dragging – use the power of the kite to surf with your body. Fun guaranteed!!!
10. Now that you can manage the kite it is time to get up on the board and start riding!! This is the ultimate step where you will get up on the board, start surfing, start edging the board and go upwind.
What does the course include?
This course is a one-to-one approach, with one instructor fully dedicated to the student. We believe that at this stage, the student needs our full attention to progress fast so we provide private lessons until the student is up on the board and ready to ride by himself/herself. Group lessons are also available at this stage.
For this course, Liquid Blue Water Sports Center will provide you with all the equipment and gear such as an appropriate size kite, board, and harness. We suggest you bring your swimming clothes, water, sunglasses, a t-shirt, and sun cream.
Consult and Book Your Beginner Lessons!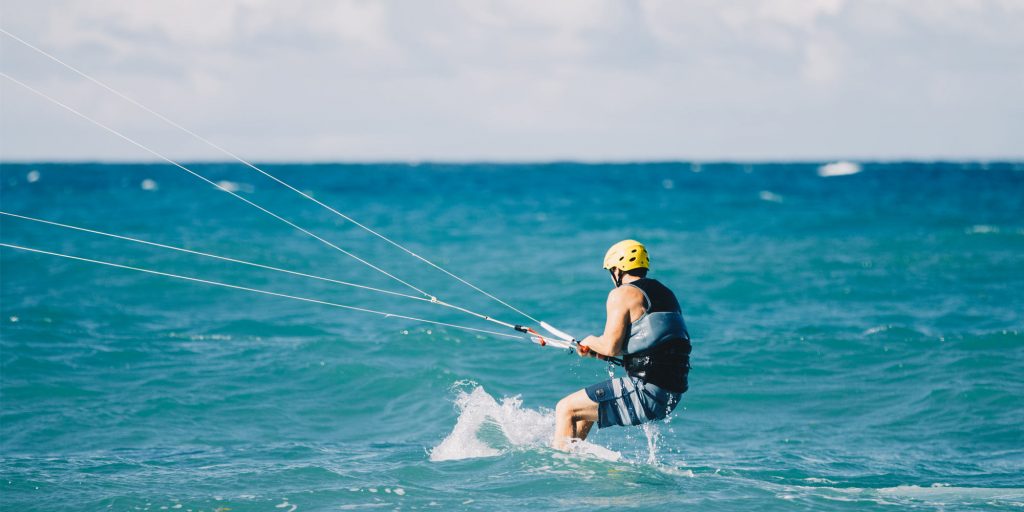 ---

KITEBOARDING IN CABARETE: USEFUL INFORMATION

Summer: It's hard to beat summers in Cabarete. It's windy from April to September, with the most reliable wind being right in the middle of that period. Summer winds are typically in the 15-28mph range.

Winter: from December to March with lighter wind, but great swell for surfers.

Wind: 12-25mph range.

Tip: use a bigger Kite or test our foil boards for some extra fun.

Weather: summer all year round. The rain season happens in October and November, with more humid weather. The water temperature is warm so you don't really need to use a wetsuit.
FOR WEATHER FORECASTS VISIT WINDGURU (https://www.windguru.cz/139).

Waves: small to medium waves On the reef break in Cabarete. Generally, Wave-riders usually go for a surf session in the morning and a kite session in the afternoon when the wind picks up.

Downwinders: Downwinder trips are very common and are organized with other people. Here are our favorite routes.
Cabarete Beach to Encuentro
La Boca to Cabarete Beach or Kite Beach
Cabarete to Puerto Plata

If you are a Beginner: Cabarete Beach is the best spot to learn. We at LB usually head to the water from the Pomodoro restaurant, our meeting point.

Kiteboarding video:

CONTACT INFO
Liquid Blue Cabarete provides wing foiling lessons and equipment rental services, making sure that you get the most out of this extreme water sport! You can chat with us via WhatsApp at +1(849)201-8694 or email us at [email protected].

YouTube
Instagram
Facebook
Website

#kite #kitesurfing #cabarete #dominicanrepublic #kitesurf #kiteboarding #liquidbluecabarete #lbcabarete