Cabarete is a water sports paradise and offers every Watersport imaginable with an amazing view all 360° degrees around! The main sports are Surfing and Kitesurfing. Surf in the morning Kite in the afternoon it is a pretty good deal.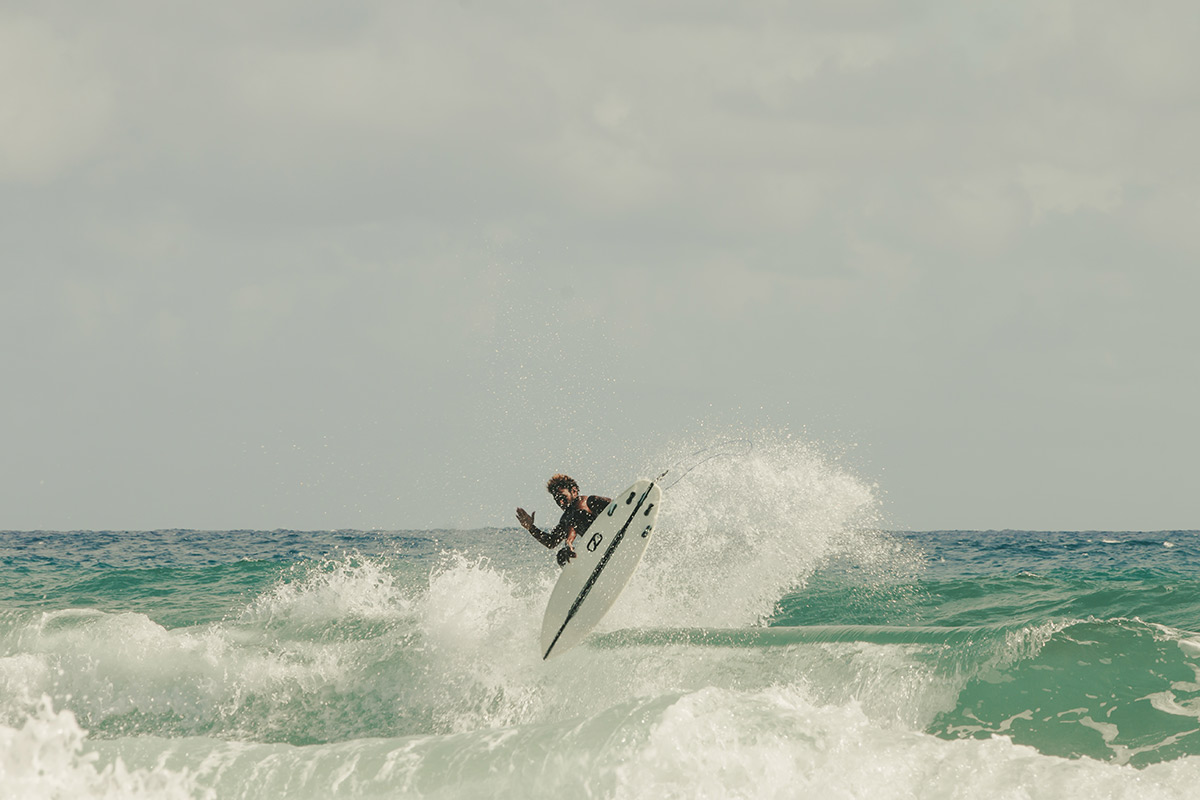 Athlete: Leandro Castillo – Air Reverse
This time I will explain why surfing in Cabarete is an unforgettable experience;
Cabarete has a main beach for people to surf called ''Playa Encuentro" located about 5 minutes away from the main town. Playa Encuentro is an incredible spot to surf for not only advanced surfers but also newcomers.
Playa Encuentro has all kinds of waves every day of the year from 1ft- to15ft (face measurement). It is an amazing space for people to learn and practice their skills. Our favorite site to check the wind and wave forecast is Windguru as its quite accurate.
There are about 5 schools that you could learn how to surf which all open at 7:00 am till the beach gets empty or till the wind starts blowing everyone heads to Cabarete beach to enjoy the wind and kitesurf after a morning surf session at Encuentro.
Some schools stay open longer than others depending on conditions. Our favorite surf school is Chinos Surf School. The teachers are well trained and very knowledgeable about all aspects of surfing and guarantee an incredible time.
All of the instructors speak English and will also take good care of you to ensure you get the best experience! At the end of your surf session, you can go grab a cold one or a yummy mojito and a delicious bite to eat at Point Break Restaurant which has a great atmosphere and relaxed vibe located between the surf schools. A very popular dish is the "Reina Pepiada"*.
It is made with chicken mixed with fresh local avocados and it only cost 200 Dominican pesos or 4$ American dollars at the time we are writing this article. They also offer other accommodations for those who may be vegan or vegetarian.
Don't be afraid to talk to the locals on the beach, they are extremely kind and enjoy meeting new people from all over the world! The local community will welcome you with all the love they have! If you are outgoing and have interesting stories to tell, you will probably end up in one of their famous Sancocho made by The Boyz!
*Sancocho is one of Dominican Republic's most famous plate, it is the Soup of the SAINT.
It's Cooked in a HUGE pot and it has all kinds of meat you can imagine it's called ''Sancocho de Siete Carnes'' which means ''Sancocho of 7 meats'' and all kinds of root vegetables and plantain to produce a very rich, thick, meaty stew, which gives the Sancocho it's special taste and uniqueness to DR.
But a Sancocho is not just food it is also an interesting and fun opportunity to interact with the locals and get to know more people. Enjoy this experience and listen to all their surfing/ Party stories.
(Be prepared to Drink)
In the end, Cabarete is extraordinary and we hope that you come and experience it all with us!
Cabarete has it ALL, and this is just the beginning…
• Credits: Roberto Pereyra