Zoom Zoom Zoom-

The North Coast and let alone the entire Dominican Republic is a gem in its own rights!

Once you learn about the country, you realize it offers so much that it is worth exploring and turning over every single rock.

During the last six months we have taken time to explore the DR in a new way… and that is by motorcycle!

Since the beginning we would never really explore the country by motorcycle. We would do it by car to bring all our water sports equipment like kites, surfs, foils, etc… and the overall experience would be pleasant and memorable. Although, exploring the country by motor bike has led to some very unique experiences of its own. 

This idea to explore by motorcycle came up after talking and trying one of Cabarete locals, Julius Utermann – KTM DUKE 390. Trying his bike, hearing the stories and realizing the comfort, versatility and power it had sparked the interest in getting our own bikes to join and create adventures around the North Coast and other parts of the island.

With the infrastructure of the country improving every year – touring on motorcycles becomes more accessible and safe. This new way of exploring has led us to some new and amazing adventures.

Unlike a car, with motorcycles you want to take the road less travelled. You want to see where those roads lead and in the end push the limits and boundaries as you thought you knew them!

So during the last six months what have we learned and done? Well….

Traveling by motorcycle means traveling with caution and meaning!

The first call of action was getting a quality and safe bike. In the Dominican Republic we luckily have KTM and Husqvarna which are brands offering a wide range of quality bikes.

Marcel Glaser one of the local rippers here decided to get himself a sweet Husqvarna SVARTPILEN 401 and I myself (Charles) decided to go with the KTM DUKE 390 which was a bike passed down from another local adventurer who took this bike all around the country on similar adventures I plan to share! Both bikes have proven to be excellent choices! 

Now that we had a bike and knew how to operate them the next step! Protective gear.

Whether you believe you are the best rider in the world or not it is important to always protect yourself. Investing in a quality helmet is the first key. Picking a helmet that is both dot and snell certified will be a great option.

After you have chosen a helmet it is also very important for long trips to get a protective jacket, pants, gloves and a good pair of biking shoes.

Once you are covered from head to toe and have a bike – I will just recommend a few more extras.

Extras that have helped me during adventures around the island:
-Motorcycle travel Bag: Can be attached above the gas tank or to the back seat.
–Comfortable Backpack: Decide to use a versatile Hurley Backpack to carry all that I need.
–Corkcicle Canteen: Having a cool or warm drink when you want is a blessing.
-Rain Coat: Large enough to fit a backpack under it.
-Microfiber Towels: Takes less space than a regular towel and is quick to dry.
-Battery Pack: Useful to keep all electronic devices charged while on road.
-Handlebar Phone Mount: Helps when using phone for GPS purposes – handsfree and safer.

Now that everything was set, time for the next step!

Where to go and who to go with?

Luckily we knew a few people with bikes and got our own so we were able to quickly make a whatsapp group that got everyone in one flow to plan and coordinate trips.

We decided to begin exploring our own nearby areas. Going on google maps, looking for new roads and places to visit. Everything from waterfalls to backroads or villages and beaches that we haven't yet to visit.

When going on motorcycle adventures it's always recommended to go with others whether on bikes or with a car. Doing solo trips is quite exciting though in the beginning to get comfortable it's ideal to ride with others. Anything can happen and it's always good to have support incase.

So the question after so many months of riding is… is it even worth it? Is it even fun?

The answer is yes. Exploring and experiencing the Dominican Republic through sports is exciting! Although adventuring through dirt roads and streets is just as pleasurable. It is a different way to spend time, definitely a great one.

During these last six months we have gathered many great memories. Everything from visiting new beaches to meeting new people and opening our minds to new ways of touring and having fun.

The only downfall will be visiting a beach that is windy and waves with no equipment to get out there! That is why in the future when we coordinate trips that involve spots with potential for water sports we will make sure to have a car coming along for the ride with all the equipment needed to not only have a blast on the road but also on the water!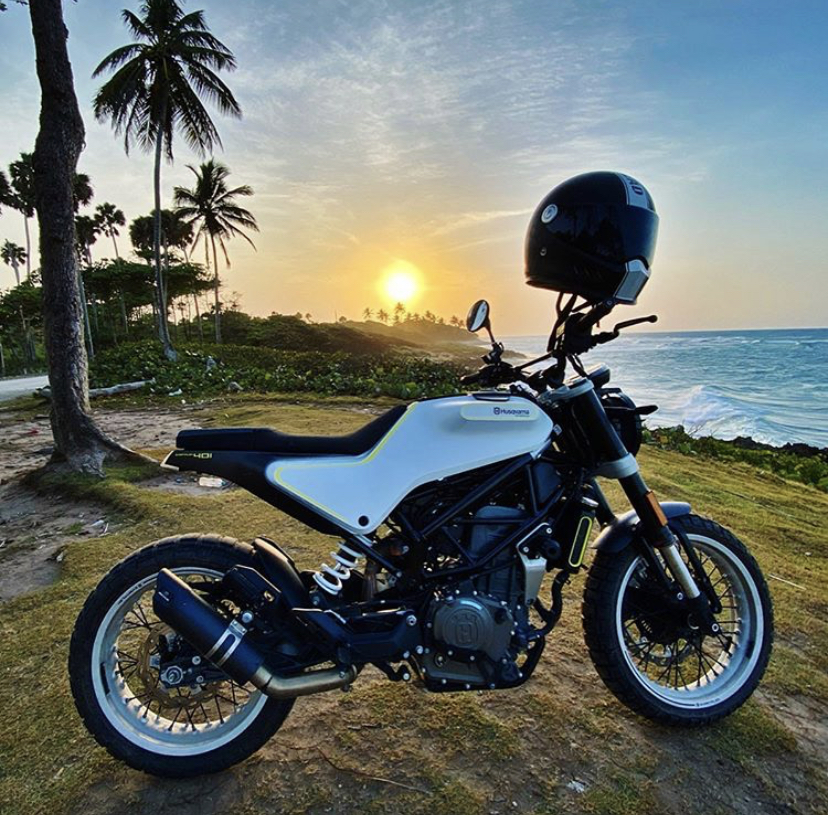 We have maybe only explored 3% of the country by motorcycle which is exciting to know as it reminds us of how much is left to explore.

We have few trips planned which are:

"The International Highway" This trip will require a few days ideally to really enjoy it. Plan is to leave Cabarete to Monte Cristi where we will drive up through the "international highway" which is a road along the border of Dominican Republic and Haiti. Once we reach Pedernales we will then drive back along the west coast of the island visiting all the different natural sights and beaches up to Santo Domingo, the concrete jungle of the Dominican Republic. Once we are in the city we will plan our drive back down straight through to Cabarete! This trip will be amazing-

"The Strawberry Run" A shorter trip that can be done either in one day or spread out over a few which is leaving Cabarete and heading to Constanza where all the Dominican berries are grown. I visited Constanza maybe 10 years ago and since then much has changed, so I have heard! Being able to drive through the zig zag roads in the mountains will be an experience all of us will enjoy. Once we reach Constanza we will also take our time to visit the mountain town of Jarabacoa to visit different waterfalls and hiking trails. This trip will be colder for the body though warm for the soul!

"Road, Beaches, Boats and Miches" A slightly longer trip though one promising for a fresh perspective is driving from Cabarete to the east into Las Terrenas and Samana area. Once done exploring all the sights to see there we would take a boat ferry over from Samana to Miches. Depending on the time of the year we could potentially kite across the peninsula to Miches. Once in Miches we would explore all the unknown sites from beaches to mountain ranges while making our way to Punta Cana where we would then relax and kite before making our way back down to Cabarete. The ideal length for this trip is a couple days as there is much road to cover and a lot to see!

The great thing about motorcycling is that it is dynamic. You get to see so much and go down paths you would have never considered before.

A good bike and group of friends is guaranteeing a memorable trip!

If you love touring on motorcycles or are looking to do something new in the Dominican Republic it literally is one great idea to ponder.

We are still in the process of covering the whole island ourselves though having done so much research and meeting the touring community of the Dominican Republic- if there is any information you need, send us an email through here.

Whether you are biking alone, with a partner or a group! Be safe and enjoy-