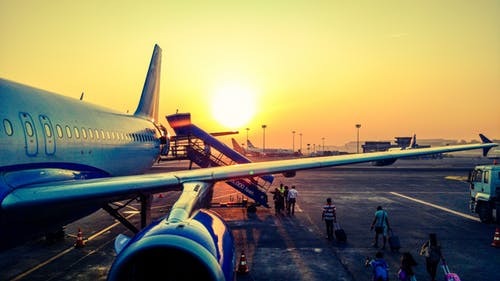 So, you're finally coming to Cabarete. After a long (or maybe not so long) and hopefully uneventful flight, you can feel your toes in the sand, the breeze in your hair and hear the crash of the Atlantic waves. Well, almost, because you still have to get here from wherever you landed! Thankfully, getting from POP to  Cabarete could definitely be one of the easier parts of your journey.
Depending on which of the DR's airports you're coming from, there are a variety of ways. Let's explore some of your options when flying into Puerto Plata.
Tip: Make sure you have some cash on hand, both US Dollars and Dominican Pesos (DOP) before you exit the airport. 
Puerto Plata International Airport (POP) → Cabarete

Gregorio Luperon International is the fourth busiest airport on the island. Capable of handling planes of all sizes, Puerto Plata Airport has benefited from being in an area with many beaches, which are popular among charter airline passengers. The popularity of the city where it is located has also drawn a number of regularly scheduled passenger airlines over the years.
Taxi
Time: < 30 min!
Cost: $
Pros: No need to change vehicles (less hassle with luggage), privacy, direct, non-stop trip to Cabarete
Cons: no Ubers in the north coast

Although you are able to catch a "guagua" (local bus) from the airport area, perhaps you'd rather have a more private option without having to worry about limited departure times and having to transfer luggage from taxis to buses and vice-versa. No problem! Plenty of taxi services at the airport will bring you right to us.
How to do it?  
As soon as you leave the arrivals gate, you will most likely notice a barrage of taxi services calling out from outside. Make sure you choose a registered driver with ID and inquire about the rate before leaving. (Tip: try your best to negotiate, the drivers usually budge but keep in mind many drivers speak limited, if any, English.)
By Rental Car
Time: that's up to you! (min 30-40 min)
Cost: $ – $$$
Pros: you're in control 
Cons: unknown roads, Dominican drivers

But hey, maybe you're on the more adventurous end of the spectrum and you'll be renting a car and driving it all the way here. Sounds fun! Renting a car is definitely a great option if you'd rather avoid having to deal with the in-and-outs of transportation on the island and would rather have greater control over which route you take, your stops and, most importantly, your road trip playlist! 
As you probably already know if you've ever rented a vehicle before, the total cost will depend on several factors, including whether you will pick up the car at the airport and drop it off in Cabarete the same day, or if you'll be using the car for the duration of your stay and dropping it back off at the airport before your departure. 
If none of the above options sound appealing, you can always walk here. It'll only take you about 4 hours from POP! 😉
If you got any questions on how to get to this groovy town, LET US KNOW!