Welcome to Liquid Blue Cabarete, the best Kite School in Cabarete
– also known as the "Hurley Store" in Cabarete (Yes, our core brand is Hurley & many more).
Liquid Blue Cabarete is the top kitesurf, wing foil and prone foil school in Cabarete, North Coast of the Dominican Republic, as well as a professional multi-brand shop located right in the heart of town.
Liquid Blue Kiteboarding School offers kiteboarding and kitesurfing lessons, wing foiling lessons, and prone foil lessons in Cabarete, Dominican Republic – as well as kitesurfing and wing foiling gear rentals and sales.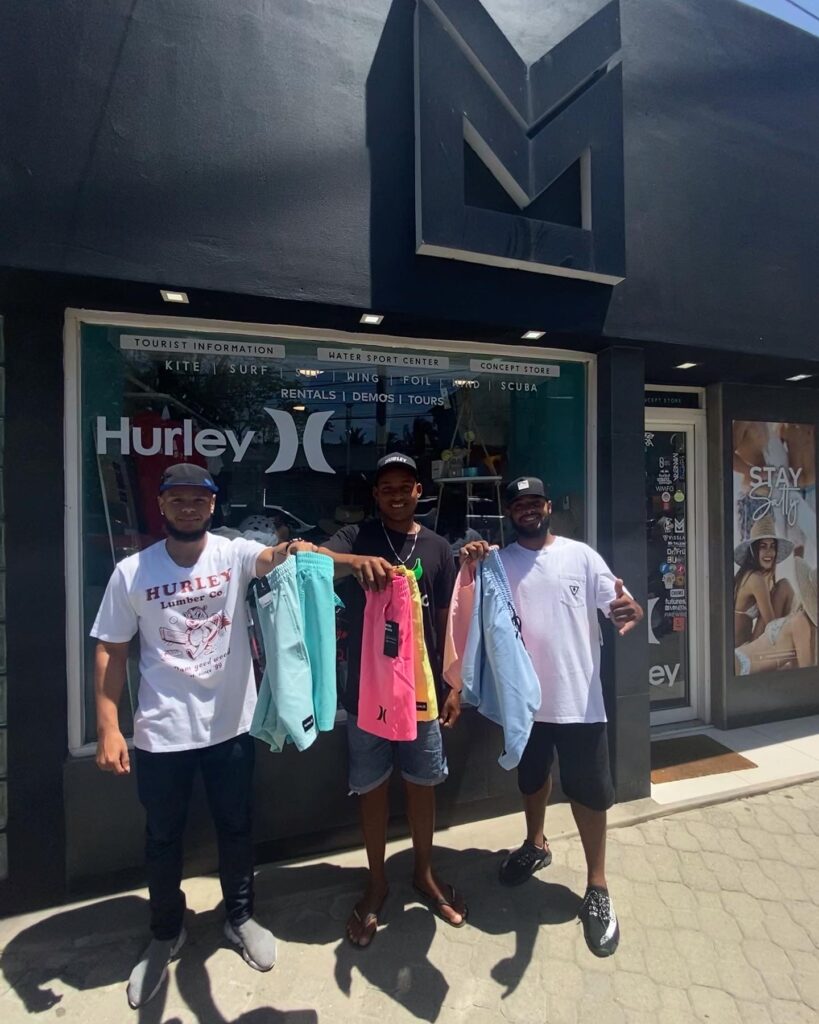 About Liquid Blue Cabarete
Our Concept Store has been created and designed for the water sport community living and visiting Cabarete. We are located in downtown Cabarete, on the main road, called Carretera Principal – right next to Helado BON, and a few steps away from Fresh Fresh Cafe.
A place where you can purchase anything from water sports technical clothes, swimsuits, water accessories for all the sports, including Kite, Wing Foil, Prone Foil, Windsurf, Surf and Paddle Board. We carry top and high-end gear, both for sale and for rent.
---
Liquid Blue's Core Services
If you're spending the holidays in Cabarete and would like to sign up for your favorite water sports lessons we are here to provide the best experience!

A. Kite, Wing Foil, Prone Foil lessons. Liquid Blue is the most superb water sports school in Cabarete thanks to high quality gear and equipment, always up to date and well maintained, to our expert and professional instructors, we make sure you have THE BEST experience possible in the water and in our beautiful town, Cabarete.
+ We collaborate with the best Surf Schools in Playa Encuentro and help you get the most out of Surfing in the Dominican Republic.
+ Windsurfing classes with local teachers
+ We rent SUP boards, as well as we provide classes on a non-windy day in Cabarete Bay.
B. Men's & Women's Clothing for water sports, dynamic lifestyle and beach lifestyle.
C. We help you plan Tours & Adventures such as Canyoning, Hiking, Waterfall discovery, Scubadiving, Horse Riding, SUP in the Lagoon, and Moto Riding and provide all kinds of info when traveling around the island.
Download the Liquid Blue Concept Store & Experience Center Catalog BELOW
Useful articles for Tours & Adventures with Liquid Blue
Check out our ATV Tours and day trips here: http://www.lbcabarete.com/atv-tours/
Liquid Blue's Core Brands
We sell the best brands in the business, including:
Why choose Liquid Blue Cabarete as your kite school?
Liquid Blue offers the most high-end sports equipment used and new as well as offering tours and sports lessons around Cabarete and the North Coast. From kiting lessons to surf intel, to even suggestions on where to go, what to visit, transportation, and delicious food spots. We will make sure you have an amazing vacation, through great communication, professionalism, and the most fun, experienced instructors.
Here's Liquid Blue's video of some of the most memorable moments spent at the beach and in the water kitesurfing, wing foiling while taking lessons with our instructors.
What to expect when taking classes with Liquid Blue Cabarete?
Try your favorite sport! From knowing nothing to riding in Cabarete! We make sure you get a superb service and get to learn what we love the most in the most beautiful Caribbean town!

Liquid Blue is open every day 9:00 AM – 9:00 PM

Reach out to us via email or WhatsApp.
Instagram: @lbcabarete
Facebook: Liquid Blue Cabarete
YouTube Channel: Liquid Blue Cabarete