Best of Wing Foiling in Cabarete, Dominican Republic with Liquid Blue & Sealane.
Wing Foiling in Cabarete, North Coast of the Dominican Republic.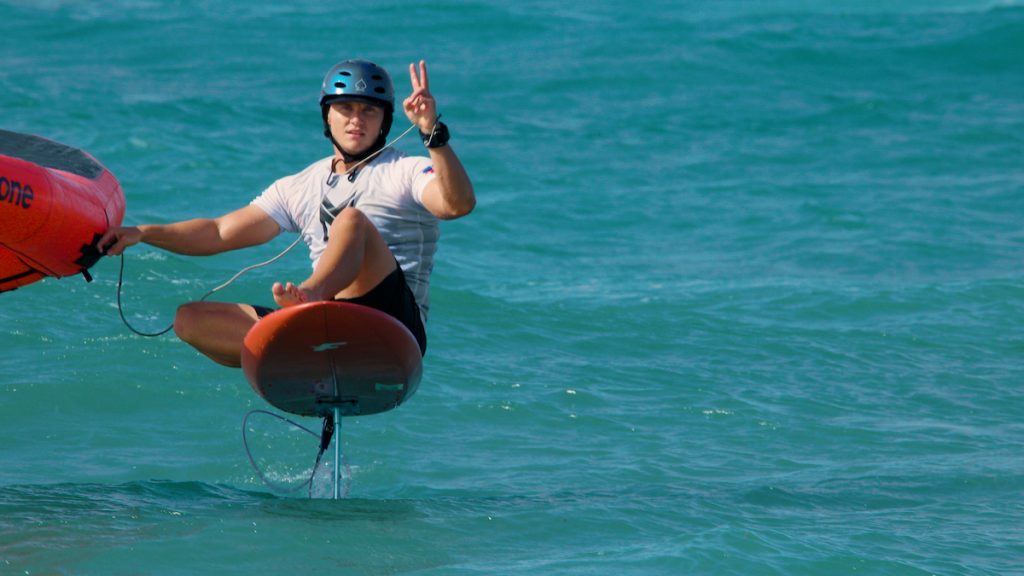 Winging or Flying? What is this extreme sport?

Wing Foiling is The Sport of 2022! And the hottest new sport on the North Shore of the DR!

A combination of kitesurfing and windsurfing that implies the use of a FOIL (A foilboard or hydrofoil board is a surfboard with a hydrofoil that extends below the board into the water. The design lets the board leave the surface of the water) and a WING (like a kite that you hold with your hands).
Winging is such a fun sport! Less bulky and quite easy to set up, also highly addictive. To begin with wing foiling, you don't need to be a windsurfer or a kiter, though you should practice having control on some type of board before getting started.
Cabarete is once again becoming the central spot in America and the Caribbean to practice a new extreme and trending water sport, thanks to its versatility, accessibility, and hype: it is just fun!
Visit Cabarete and get the most out of your Wing Foiling experience!
Cabarete offers many special places for travelers and water sports enthusiasts from all around the world.
There are many beachfront residences ready for you to experience the best sides of Cabarete and the North Coast of the Dominican Republic, making you feel at home.
Sealane is one of our favorite options. Located right in the heart of Cabarete, within the Ocean Dream Gated Community, Sealane offers great lodging and invites you to fully enjoy Cabarete, an amazing and vibrant village known worldwide for its many sports and social activities, all within walking distance. Make sure to enjoy the view!
Pure Wing Foiling at Sealane Cabarete.
Q&As: get ready for your upcoming trip to Cabarete.
Why is Cabarete the best destination to learn and practice Wing Foil?
Cabarete Bay would be the ideal place to learn how to wing Foil, we at Liquid Blue Cabarete will help you make the most out of this sport and our Caribbean town. Everybody knows that the wind in Cabarete is at its best conditions throughout the whole year.
Where to learn Wing Foiling in Cabarete?
Easy, with us at Liquid Blue Cabarete! Your water sports concept store, and Kite + Wing Foil School, located right downtown!
Our Wing Teachers started wing foiling about three years ago when the sport was just starting to get noticed. They will ensure you get the best Winging Experience, whether you are a beginner, intermediate or expert rider.
Why is Liquid Blue Cabarete the best school to learn Wing Foil?
Wing Foiling and all the sports that have to do with it (let's call it hydrofoiling to include all categories) is the future of ocean sports and at Liquid Blue Cabarete we are all about it. From teaching to rental and sales of lessons, gear, and all the best equipment on the market, from new to second-hand.
For our community of water sports and wave riders we have the best equipment – we personally have tried wing foiling (and kite surfing) all around Bay and on the North Coast of the island!
---
Make sure you let us know if you have questions on how and where to start – we'll be more than happy to guide you.
If you have any questions about wing foil, courses or equipment rental, or retail, you can contact us at any time by email – [email protected] – or WhatsApp +1(849)2719573
Cabarete is awaiting you!
Wing Foiling Course: what's included.
The teachers: Jeury and Charles will be your teachers! These guys are the best in Cabarete and sure know how to ride in the Bay.
An average 1-day class includes the following (total duration: 2.5 – 3 hours):
Level 1
Theory class on the beach (literally on the sand)
Duration: 1 to 1.5 hours
What you learn: wind, safety, and Wing control
Level 2
Practice session in the water (on your knees)
Duration: 30 to 40 minutes
What you learn: control of the board and the wing
Level 3
Time for action! Stand up on your board and start riding (up to your skill level at this point – practice matters!!)
Duration: 1 hour
What you learn: finally get to practice wing foiling
Advice: we suggest you take at least 2 to 3 classes of the one above before you start wing foiling. As in all sports, practice is what makes a difference, especially if you are a beginner.

Wing foiling is a sport everyone would love to do, though the process can be quite tricky.
Don't let frustration win, just have fun and be patient – results will follow.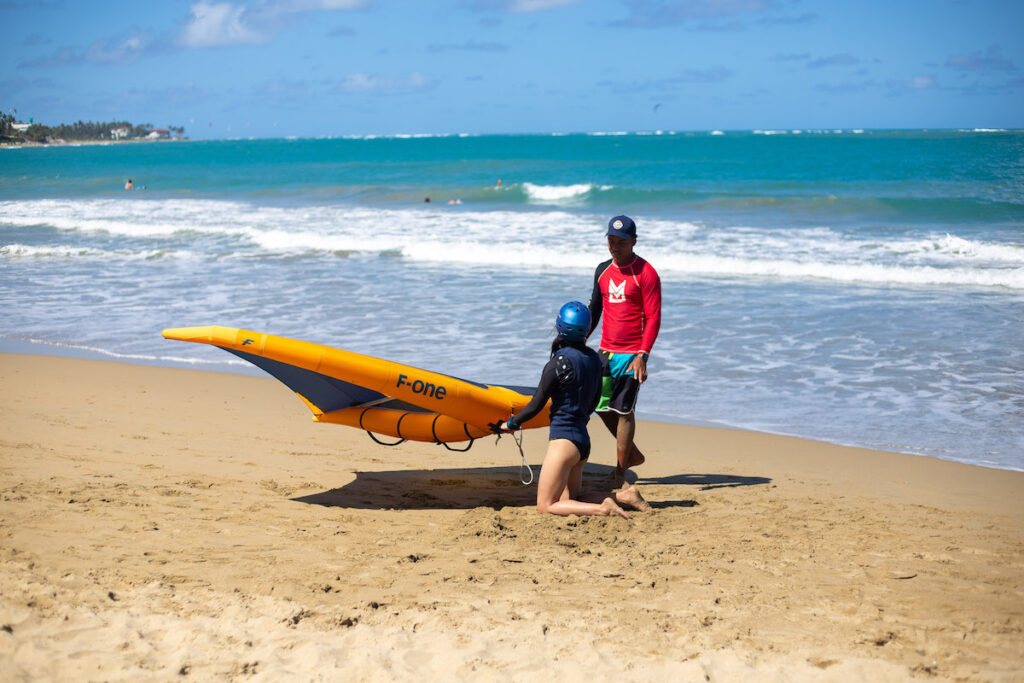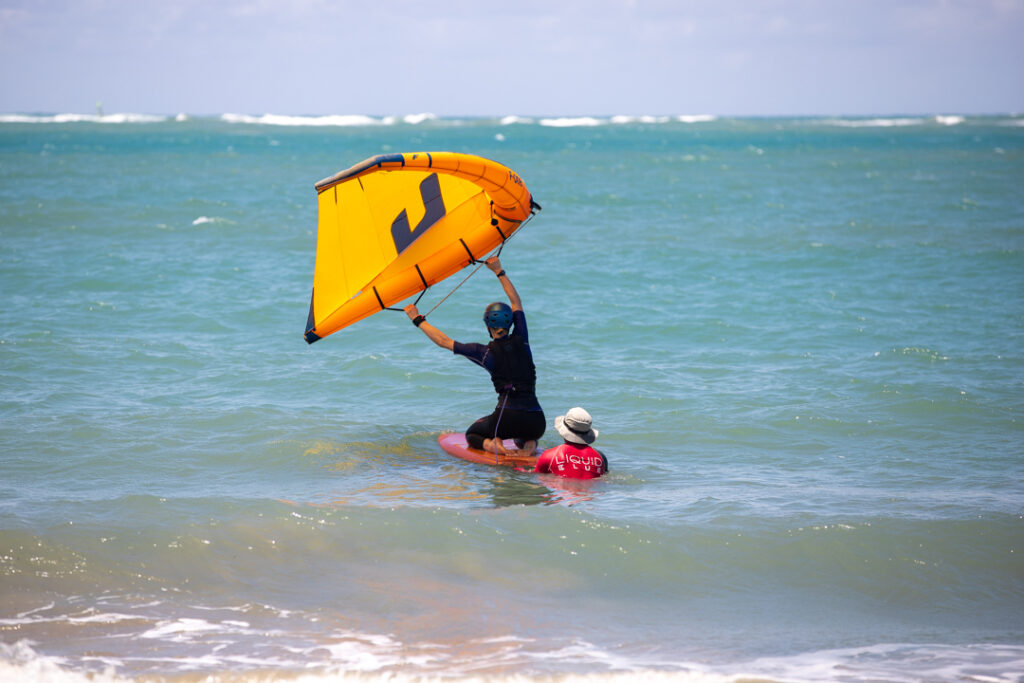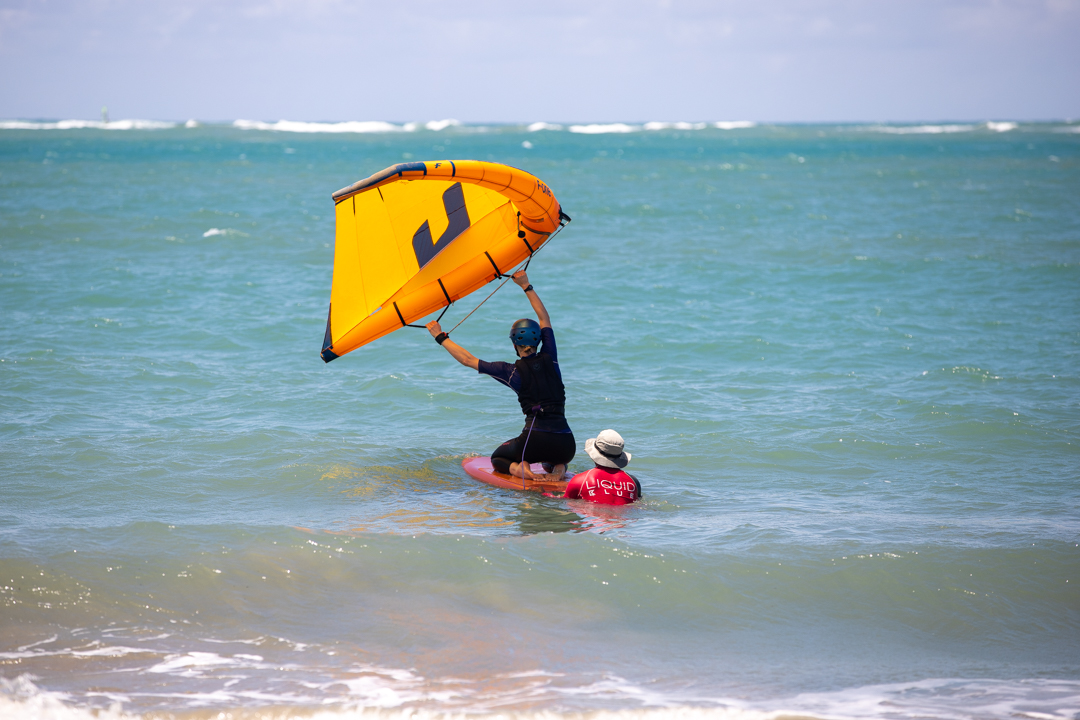 _______________________________________________
If you already are a wing foil master this section is for you.
Getting Wing Gear in Cabarete: There are just a few stores in Cabarete that currently hold wing/foil gear. The main shops would be Kite Club, Liquid Blue Concept Store, and Vela Cabarete.
You can get in contact with us to Pre-Order any type of F-One Wing Gear that we may have available for pre-order. We have been working for over 10 years with F-One and their attention to detail in making a great product is one of the main reasons we can't stop talking about it.
This ultimate Winging guide will show you where to go once you dominate this awesome Water Sport discipline.
Before you book your trip to Cabarete and your wing foiling classes with us read the info below – get the basics, it's free!
Introduction to the wing: Wing foiling was a sport created by kitesurfers through the combination of the windsurfing skill and foiling, not much-kiting experience is required or probably none for you to learn.
1st: The main point to learn this sport is to have at-least some knowledge about the wind, water or board, though it is not an X factor for you to learn.
You will start by learning how to fly the wing, for some can be tricky and quite confusing, at least for me at first it didn't make any sense though I got the hang of it on land.
It's just like a car. You can even put it literally on NEUTRO and not move at all and just hold the wing by itself.
The wing is designed with 3 handles for you to grab that will allow you to move it around and use its different handles to generate more speed. Maybe while reading this it won't make any sense.
2nd: Once you learn how to dominate the wing on land your next step is jumping on a SUP (without a foil) if you haven't foiled before.
Watch our Wing Foiling Lessons videos pt. 1 and 2 to get you started with this sport wherever you are in the world.
Traveling to the Dominican Republic to Wing Foil
Tips for Winging trips:

1: Make sure you have more than one wing when going on a trip, wind conditions may vary and you might want to change equipment as wind keeps getting stronger. Wings dont have a de-power system which means you are always on a full throttle.
2: Wear a helmet: Unlike Kiteboarding you can detach yourself from the board quite easily and get away from the sharp foil at any second. With the wing, once you fall down most likely you will be quite close to your board. An impact vest can also be something you may consider. Don't buy a helmet or impact vest after getting injured, be precautious.
3: Before going in the water make sure it is deep enough for you to foil/wing, you will not want to damage your foil.

4: If you're learning practice will make it perfect, do not give up no matter how many times you fall down.

5: Have fun! 😉
---
QUESTIONS ABOUT WING FOILING, WING SURFING, KITE-FOILING IN CABARETE?
---