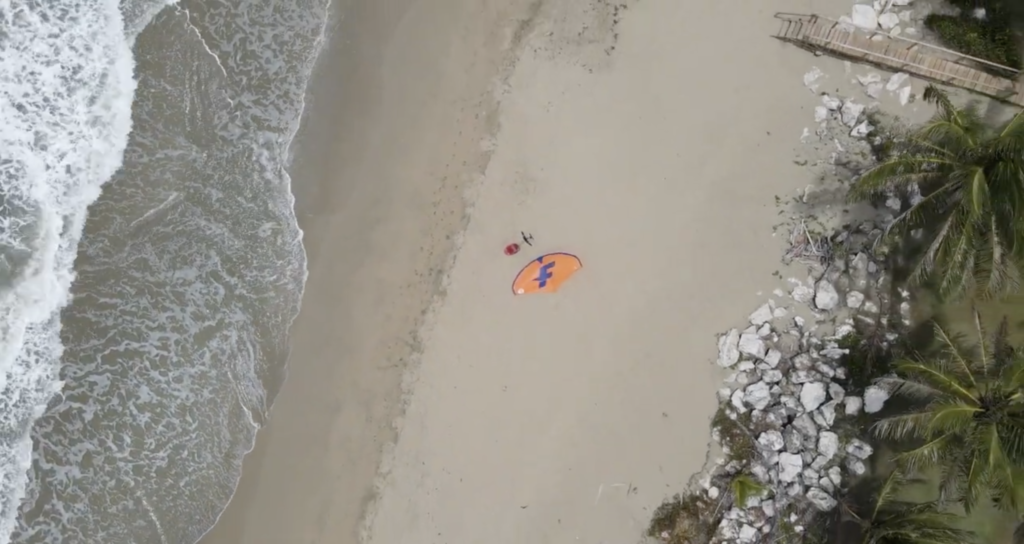 F-One Tech Rep Gael Espeche decided to take a break from the Florida's beaches and came to visit us in Cabarete. During his stay we had some really good wind and our guest Gael of course took any opportunity he could to go for a wing surf session. Watch his video and read his article right below!
When summer hits, Cabarete becomes the best playground in the Caribbean for any wind addict!
The little town of Cabarete in Dominican Republic is already a world class destination for kitesurfing and windsurfing. It was just a matter of time to put the wing to the test at this great location.
The thermal winds build up nicely in the beginning of the afternoon and can boost up to 25-30 knots with a nice swell and 4 to 6 ft waves on a daily basis.
The bay of Cabarete is the best area for any level of wing riders. You can practice next to the shore as the water gets deep pretty fast and the side shore winds make it easy for a water start without worrying about any reef.
As you progress in this beautiful bay, you can start heading to the reef which remains deep enough to fly above it with your surf foil. And that is when the fun starts! A nice swell builds up before the reef and curls down to form nice and smooth waves that you can ride just on the surf foil for at least 15 seconds with minimum pumping.
Beware of kite beach area, the reef there is not foil friendly at all and very sharp. The reef in the bay directly in front of the town remains the best spot to progress, have incredible rides and worry free! Another pointer, you should make sure to also keep an eye at the horizon for any storm forming as the wind can suddenly boost to 30+knots and can also turn offshore.
If you follow those tips, you will always stay out of trouble!
In this Dominican paradise, the rocket surf in 4'-6" (33 liters) is the ultimate choice to pair with an 85cm mast and the phantom 1480 wing. You will enjoy the most manoeuvrable combo at this spot and is ideal for going back and forth to the reef, cross the break and hit some nice waves. The phantom foil wing 1480 is the perfect size as it keeps the right cruising speed and stability on waves. Don't forget to bring a few Swings to increase your time on the water. The 6m and 5m are great options to ride early in the afternoon and get a long session.

For board choice, make sure you bring the board that you will feel at ease on. A Rocket Wing in 5'-10" (90 liters) is another great board as you master the wing sport and fairly easy to travel with. The Rocket surf remains an advance board that requires to manage a kneeling water start under the surface with some balancing skills in sometimes choppy water. As TKB states it: "The main variables in board choice are personal skill/learning curve agility, weight and end-game aspirations."
The wind machine stays on a few hours after sunset; thus, you can definitely enjoy the beautiful scenery of the beach town with mountains in the backdrop and amazing sunset colors.
After a great session, you can enjoy the town night life: eat lobsters at Casa de Papi, meet up with friendly local and visiting riders, relive your session around a few drinks and finish dancing bachata at the Ojo nightclub!
Cabarete is a must go for any riders: kiteboarders, windsurfers, foilers, kitesurfers and now wingsurfers!
This spot will deliver the best conditions in the Caribbean for your adrenaline fix and makes sure that you Stay Salty!
Thank you Gael for visiting us. Hope to see you very soon in the Dominican Republic!
Come visit us at Liquid Blue concept store in Cabarete, Dominican Republic!
Want your own? Pre-order it by contacting us directly or ordering on our web store.
Rider: Gael Espeche
Drone footage credit: Renato Ranoya insta: @rryanoya and Gael: @keep_off_my_wave
Music: artist L Ayatollah song: Coonskin