Seeking the ultimate Kiteboarding in Cabarete adventure? Look no further than the sun-soaked Caribbean, where nature comes together to create the perfect playground for taming the winds with your kite. The climate here is like a welcoming hug that turns into an exhilarating rush of adrenaline.
Let's talk about Cabarete – a coastal paradise that's more than just postcard-perfect views. It's a haven for kiteboarding lovers, drawing in both newbies and pros year after year to the shores of the Dominican Republic's north coast. And let me tell you, it's a place that's hard to resist.
Imagine this: Cabarete's stunning beaches set the stage, with consistent breezes, shallow lagoons, and gentle swells inviting everyone to join in the fun. Whether you're just starting out or fine-tuning your skills, Cabarete's got you covered.
But wait, there's more. Cabarete isn't just about its natural beauty. It's the community vibe that makes it truly special. The heart of Cabarete beats to the rhythm of kiteboarding, with experienced instructors ready to welcome kite enthusiasts of all ages. They're here to help you nail the basics and master those jaw-dropping tricks.
Kiteboarding isn't just a sport in Cabarete – it's a way of life, woven into the fabric of the community. Whether you're an adventure seeker, a seasoned pro, or just someone who wants to soak in the kiteboarding culture, our blog is your ticket to an unforgettable experience.
Ready for a wild ride? Let's dive into the world of Kiteboarding in Cabarete:
Cabarete's Perfect Conditions for Kiteboarding in Cabarete
Before we take the plunge into the world of Kiteboarding in Cabarete, let's break down what makes this place a mecca for watersports enthusiasts. DISCOVER MORE IN DEPTH ABOUT THE WIND IN CABARETE.
Winds That Play Along: Picture this – Cabarete gets these amazing tropical gusts that sweep across the coastline almost all year round. These winds are a kiteboarder's dream, giving you the canvas to show off your skills and dance with the breeze. Want to know more about the wind? We've got you covered.
Caribbean Sunshine Forever: The Caribbean knows how to keep things warm. With temperatures ranging from 77°F to 86°F, it's like a perpetual summer. So, you can enjoy the beach life any time you visit. No worries about freezing or melting away.
Unleash the Wind Season: The wind season here kicks off in early June and keeps going strong until late September. July and August are the stars of the show, but even outside of these months, the winds are pretty darn awesome. These winds make Cabarete a water sports wonderland, giving kiteboarders and windsurfers the perfect conditions to shine.
Clear Skies, Happy Vibes: Rain is a rare sight in Cabarete. It's all about blue skies and sunshine. Maybe it's because Cabarete is so close to the coast and far from those rainy mountain valleys. Whatever the reason, it's a kiteboarder's paradise with fewer interruptions from the weather.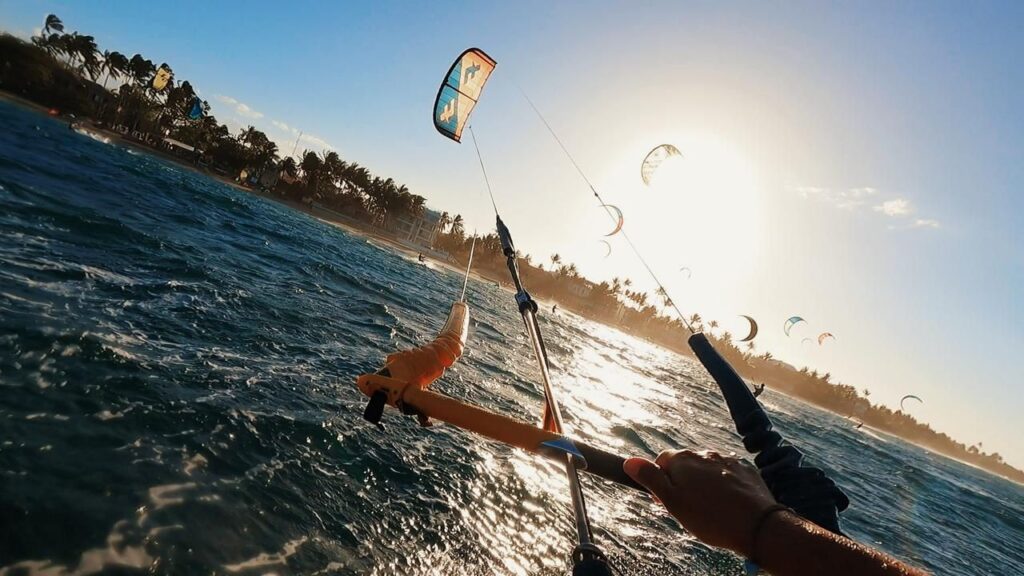 Now that we've set the stage with Cabarete's unbeatable weather, let's dive into the essentials – the gear that makes your kiteboarding experience extraordinary:
Kites: The Heart of Kiteboarding. These amazing contraptions capture the wind's energy, giving you the power to glide across the water. They come in all shapes and sizes to match different wind conditions. From powerful kites for gusty days to larger ones for gentle breezes, there's a kite for everyone. You'll find two main types: inflatable and foil kites.
Kiteboarding Boards: Your Best Friend. Just like a paintbrush for an artist, the board is what you ride on. There are different sizes and styles to match your skills and preferences. Small boards are perfect for tricks, while larger ones keep you stable while you learn.
Harness: Your Comfort Zone. This nifty tool spreads out the wind and kite's force, so your arms can relax. It's like a second skin during those long kiteboarding sessions, snugly wrapping around your waist or hips.
Control Bar: This is how you tell the kite what to do. With strings connected to the kite's edges, you can steer and tilt with ease.
Safety First: We're serious about safety. Kiteboarding gear comes with smart systems that help you stay safe in emergencies. Quick-release mechanisms and fast-acting lines are your backup plan. Helmets and vests are also a must, keeping you safe and afloat. And don't forget those tinted sunglasses – they shield your eyes from reflections and the sun's glare.
Ready to ride the Caribbean waves with your kite? Whether you're a seasoned pro or just dipping your toes, Cabarete is the place to be. Connect with us today to book a class, find the perfect gear, or simply ask us anything.
You can reach out on: WhatsApp at +18492719573 / +18492018694 or drop us an email at [email protected]. For more info, explore more of our blogs on: www.lbcabarete.com.
Your next adventure is just a touch away. Can't wait to see you out there!