Hello friends!
Here's another blog + video of How-To, where we provide tips on Cabarete's most wanted and trending extreme water sport: Wing Foil!


Many of you Wing riders have been asking for advice on "how you know where to set up the foil on the board". If you have been asking yourself – Where should foil be placed on a board? – this blog and video are for you.

Learn how to get started with your foil safely. Understand the foil board setup, the stance, and the riding techniques.

THE FOIL SETUP
Adjust the foil to the center of the board (n. 4/8 on our board). Beginner, lighter wind conditions: the foil should be more up (2-4) to get more lift so that you have a better hold of the board. Wing foiling or Foil surfing is an exciting experience, and it may not require waves to get going. Hydrofoil surfing is somehow like controlled aquaplaning. It's all about gliding effortlessly and smoothly above water. Foils can be used to surf, race, or cruise around.
Essentially, there are 3 ways to tune your foilboard in order to adjust your balancing point over the board. For example, say your board rises up fast and you have to stand close to the front of the board.
In this blog post we'll explain how to prepare your foil setup so that your board doesn't rise up as quickly and your balancing point is further back on the board.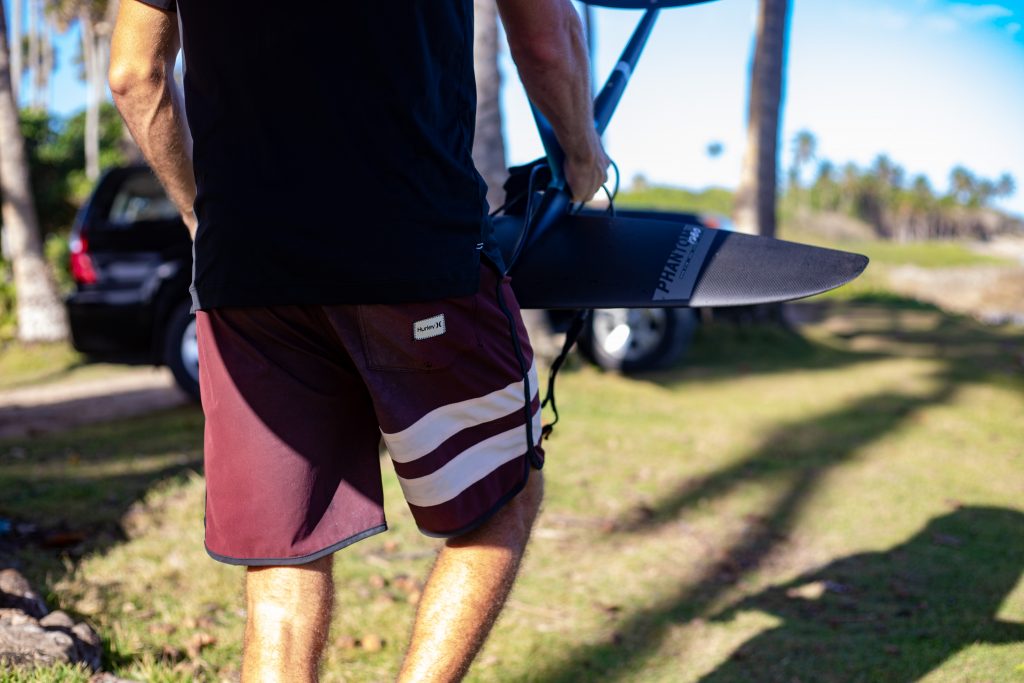 1st Way: Mast Position On Board
Adjusting where you place your mast on the board will affect how far forward or back you have to stand on the board and how much initial lift you get. Placing the mast all the way back will make it difficult for the foil to breach, so it is a good position for learning how to foil board. As you get better, you'll want to adjust the mast further forward. Experiment by moving the mast half an inch forward until you find the right balancing point. Keep in mind different foil wing designs will also affect how much or how little lift there is.
Remember: start with putting the foil in the center. Moving more back gives less lift, moving more forward gives more lift.


2nd Way: Adjusting the Rear Wing
Positioning the rear wing further forward or backward will affect the performance of the foil. Having a rear wing closer to the front wing will cause the foil to be maneuverable and carve smoother and easier. The downside is you won't get as much glide and it won't feel as stable. Having the rear wing further back will give you more glide and will make the foil feel more stable.
---


If you are ever planning to visit our water sports town in the Dominican Republic (and probably the world….) and want to get the most out of your trip, make sure to connect with us and get all the information you need to get ready for your upcoming adventure.

Get in contact with us either via WhatsApp at +1 849 271 9573 or +1(849)201-8694.


If you prefer to email – contact us at [email protected].

Just so you know, at Liquid Blue Cabarete we provide kiteboarding, winging lessons, and equipment rentals from beginner to intermediate riders.
We also do other activities like surfing, horseback riding, and scuba diving amongst others though we can talk about that! We essentially help people organize experiences whether while down here or before coming down here!

Instagram: @lbcabarete (https://www.instagram.com/lbcabarete)
Facebook: Liquid Blue Cabarete (https://www.facebook.com/lbcabarete/)
Website: www.lbcabarete.com (https://www.lbcabarete.com/)
Phone: +1 849 271 9573
Tripadvisor: (https://www.tripadvisor.com/Attraction_Review-g317144-d14208519-Reviews-Liquid_Blue_Cabarete_Water_Sports_Center-Cabarete_Puerto_Plata_Province_Dominica.html)