Recently we have been Hydrofoiling in Cabarete, but did you know that Hydrofoiling has been around for many years? The Hydrofoil was invented by Alexander Graham Bell in 1906, as a boat which he called the ''Hydrodrome'' back then.

Most recently in 1995, the HydroFoil Board was invented by Mango Carafino, a big wave tow-in surfer and water-sport instructor from the Hawaiian Island of Maui. Carafino is also the innovating developer of hydrofoil board design for stand-up hydrofoil boarding and kite surfing.

Laird Hamilton also influenced a lot on Hydrofoil's popularity, with his act of bravery including the Hydrofoil on his big wave surfing journey. He discovered the foil board's capability to harness swell energy with the use of a jet ski, pulling the rider into a wave.


What is Hydrofoiling?
– Hydrofoiling is a lifting surface, or foil, that operates in water. A Hydrofoil board its design with a ''Foil' that allows the board to levitate from the water once enough speed has been acquired, this gives you the closest feeling to ''flying over the water''.

Currently, surfers are implementing the practice of foiling into their lives since it is a fun activity to do once the waves are not good enough for surfing and it is also a great leg workout. When you foil you get the advantage that you can catch any small wave and continue to have more travel time. Once you get good at foiling then you can even pump on to the next wave and ride it as well!

You can Hydrofoil in Cabarete (surf) after the wind picks up at Playa Encuentro since you don't want to run into anyone while foiling, it could be really dangerous. If you are learning how to foil we would highly recommend you to use some kind of protection in your body, to avoid major injuries. Most recommended is to use an Impact Vest & helmet, available at the Liquid Blue Shop.
Kite Foiling in Cabarete
The awesome thing about Hydrofoil is that you can get into the water with much lighter wind than traditional kite surfing equipment, it will also allow you to have more water time. Once the wind is 7+ knots you can already go out there and foil!

Kiting with a foil board generates higher speeds since the foil cuts through the water with minimal drag. Kite Foil is also a great relaxing kite experience, due to its quietness and smooth rides, even when there are choppy conditions out there.

There are two different ways of kite foiling. You can either do strapless foiling, which will require more technical skills to overcome, but afterward will be smooth riding.
Another way of kite foiling would be with straps, that will allow you to have more control over the board and you can attempt to jump with it. Not much recommended doing jumps in the Foil since it can get damaged if done constantly.

Cabarete Bay is ideal for Foiling, due to its consistent wind and flat crystal clear water. Learning how to hydrofoil its best to do it with someone experienced in the sport, rather than learning by yourself. Kite foiling will require a different technique than normal kiting since you will need a higher standing balance as well.  Here at Liquid Blue, we offer you hydrofoiling lessons, for those who want to start their day earlier and go kiting at 10:00 am!

Experience the feeling of levitating over water, it feels awesome.  

Wind Foil lesson
Kite and surfing is not your thing? Don't worry! Vela Cabarete offers Wind/ SUP Foil lessons! At a great price. Audrey Meyer is a local water woman that has been in Cabarete for quite a while. Audrey is also one of the main organizers of the Butterfly Effect in Cabarete, we consider her as a warrior always willing to do good for the community but also empowers women to get some adrenaline into their lives.
The team at Vela Cabarete will be your best bet for you to introduce this new style to your SUP/ Windsurfing knowledge!
If you'd like to learn wind foil or windsurfing CLICK HERE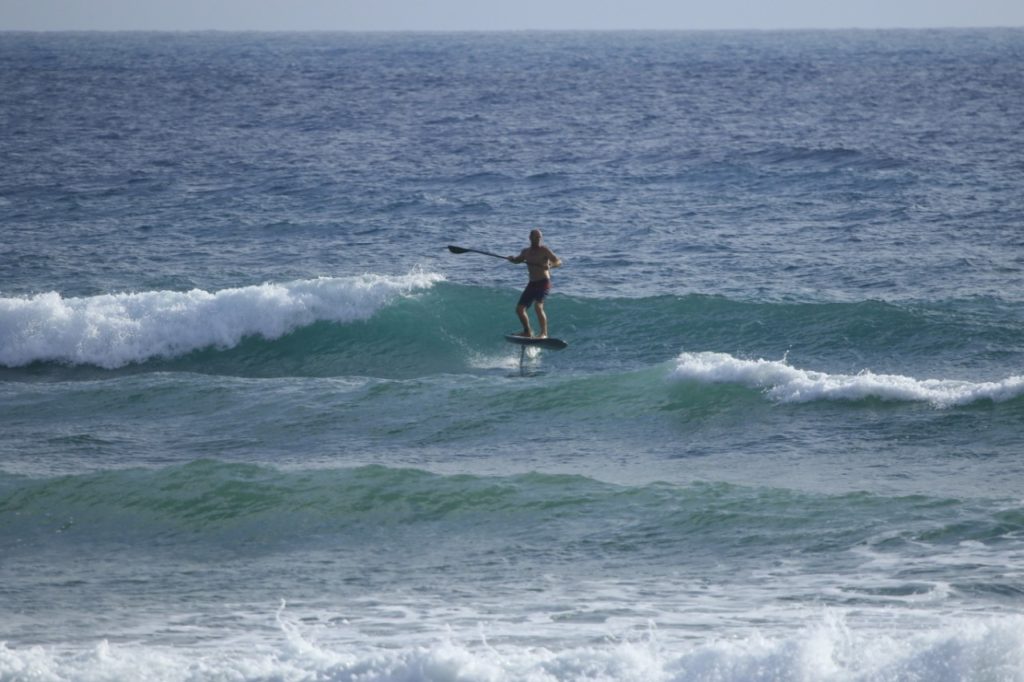 Liquid Blue Cabarete Hydrofoiling

The Liquid Blue Team is well prepared to introduce you into hydro foiling. We guarantee you that you will love the experience of having the smoothest kite surfing sessions of your life.
In general, foiling is a great skill to have with you, whether you are in Cabarete or anywhere else, it will allow you to go kiting with the lightest wind conditions, while everyone is waiting for some strong wind. Who wouldn't love to be one of the first people in the water before the afternoon?

This being said, we have created a small video with Biz-Dev Media Team, showing what it's like to go foiling in Cabarete Bay with the Liquid Blue Team!
Featuring: Charles Osterlund & Jeury Santana.
Enjoy!