Let's go foiling!
Wait a second, before you even mention this read up.

As many of you might have seen on social media, there is this one awesome surf/kite/windsurf/SUP discipline called foiling. Many of you probably have tried it by yourselves or seen it by the beach. If you're not even sure what I'm talking about check Hydrofoiling in Cabarete to get an idea.
If you're considering getting into foiling we highly recommend that you either contact a professional that you know about more information on how to get into the sport and if you don't know anyone please do not hesitate to contact us.
Foiling in any discipline is extreme and we don't want anyone to get hurt while learning or practicing the sport in any of its disciplines.
It's simple, a foil is a long fin (mast) with a foil that lifts you up while you generate speed through the power of a wave, or speed generated by the wind through a sail or kite.


Foiling has been growing the past few years and there is always something new coming out. Before you could see that foiling was all about, surfing, windsurfing, SUP, or Kite foiling, now there's a new discipline called the wing foiling, a combination of kiteboarding, windsurfing and surfing all at the same time.

On this Ultimate Foiling Guide we will break down everything you need to know about foiling on the North Coast of the Dominican Republic.

One thing you must take into consideration when foiling is safety. The mast under the board can be as dangerous as a sharp knife. That's why we ALWAYS recommend using an Impact Vest and a helmet for your safety, these 2 pieces of equipment can save your life.
For the safety of your gear or the gear you are renting from, you must know which size of the mast to use. It will vary depending on how deep the water is wherever you are foiling. The smaller the mast the less lift it will have.

Mast & Sizes : Your level of foiling will determine the length of the mast you will choose apart from the other variables such the chop in the water, deepness etc. The shorter the mast the easier it will be to start as a beginner, less lift and more control on your side. The longer the mast the less balance you will have at the beginning and the awkward yet amazing feeling of flying will disturb you at first.
That's why, to initiate you to surf foil, the ideal is to opt for a 65 cm mast. As you progress, you will move towards an 85 cm mast.

The surface area of the front wing depends on your level, your weight and especially on the waves you are considering. This is why it is important to have different wings in your quiver to switch wings according to the waves.

Where to get Foil Equipment in Cabarete: Foiling is practically new in the Dominican Republic, reason why there might not be many choices for you to buy from. Kite Club Cabarete, Vela Cabarete and Liquid Blue Cabarete (us) would be one of the only choices apart from locals and tourists that are selling their gear.


Currently at Liquid Blue we work with F-One for all our kiteboarding/foiling/winging gear. As we can assure you that so far F-One is providing the best gear for these types of disciplines. If you're interested in purchasing brand new foil gear whether for kiteboard/surf or winging you can pass by our shop or send us a message in case you want something specific.


How to choose the right foil equipment?

Honestly this is a question we get quite often. Getting the right foil equipment will depend on your total knowledge, starting from ever being in a Watersport that requires a board or if you have experience with windsurfing sup kite etc. If you're getting into foiling most likely you have some Watersport experience in the past and now is all about adjusting your stance and twitching your muscle memory.

As said before it will all depend on your weight, height and skill level with a board or foil in this case.


Best School to Learn SUP FOILING: We have partnered up with Vela Cabarete, since they have been in the game for a while and the team that currently manages the SUP/Foil school is quite knowledgeable in any water sport discipline, from windsurfing to SUP to foiling, you name it they know it all.


Learning Wing Foiling: Generally if you have water sports background you will need 2-4 hours of overall instruction to get a solid foundation and understanding.

Some people like to use a SUP to have an understanding of the Wing and not focus much on using the foil first. Once doing the baby steps with a SUP and the wing transitioning to the foil will be easier. This is the right way to do it when you have never foiled before.


After that it will be all practice through trial and error. If you don't have any water sports background, you might be looking at 4-6 hours of instruction and practice. Private classes and coaching start from 95 USD+ the hour, with equipment. Shoot us a message to get you started!

Foiling Spots on the North Coast Dominican Republic:

Cabarete Bay: At Cabarete bay to the far right of the beach is one of the ideal places where you can learn most of the foiling disciplines.

Windsurf Foiling: Cabarete being the place to learn this discipline, if you are already a windsurfer it will make this much easier and the balance correction won't be a huge variable for your learning experience, you should be learning this quite easy. If you're into the sport of windsurfing contact us and we will set it up for you.

SUP Surf Foiling: Sup Foiling can also be done at Cabarete bay, paddling out to the outer reef, which is deep enough for the foil. Starting off by using a small mast to test the waters. Sup Surf Foiling can be lots of fun, since you are already standing the balance here will be a lot easier to manage since you have more range of standing on the board. The Volume of the board also will affect how much lift the foil will have once riding the wave.

Surf Foiling: You could do surf foiling here though the paddle out will be a hassle and in our honest opinion not the right place. Surf Foiling we will leave it for other spots on the North Coast.

Kite Foiling:
Cabarete Bay is the ideal place to learn Kite Foiling, one of the perks of the kite foiling is that you can head out in the water with just as little as 9 knots of wind using your standard wind condition kite. For you to do kite foiling must dominate some kiteboarding skills beforehand. If you're ready to join on this experience hit us up and we will get you flying on top of the water within a couple hours of lessons

CLICK HERE TO FLY


Wing Foiling: Cabarete Bay being the ideal place to learn Wing Foiling. The combination of wind surfing, kiteboarding, and surf foiling all at once. Seems tricky to learn though we have set up the right procedures for you to learn this discipline as quickly as possible. Flat water through the right side of the bay will allow you to maintain your balance most of the time.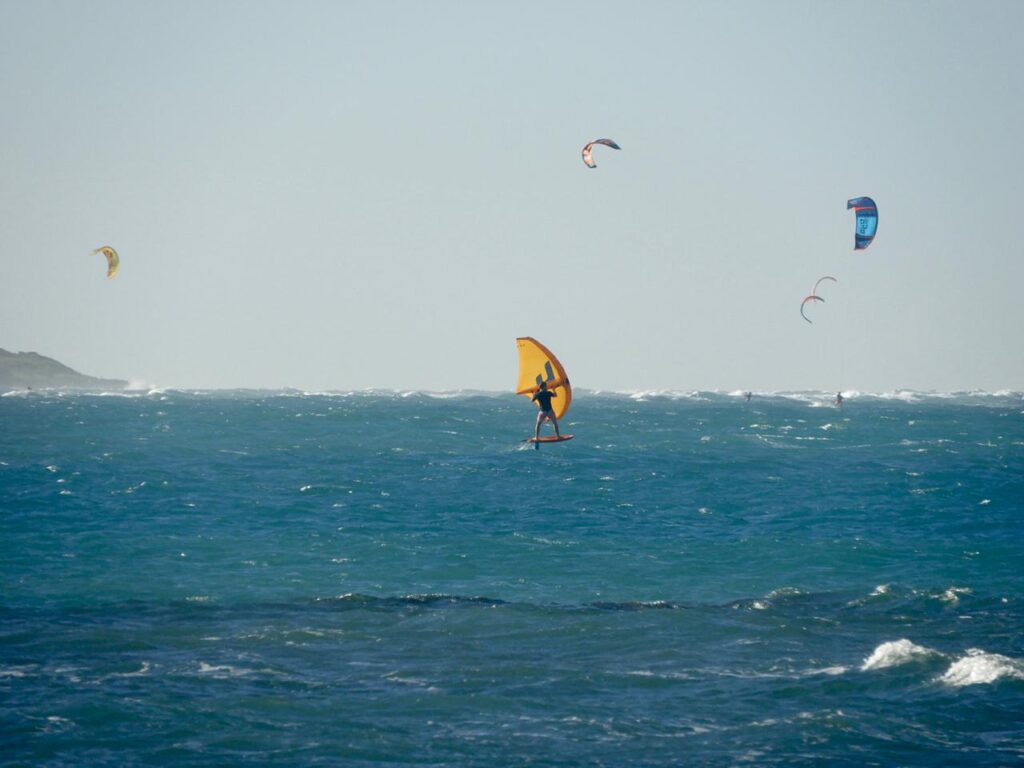 Always good to have professionals and the right safety equipment when learning wing foiling as it can be quite dangerous by yourself. Ulti
If you have had foiling experience in the past and kite foiling experience learning for you will be a piece of cake since you already know what you are getting into.

For experienced wing foilers out there, just enjoy! The beautiful scenery of the bay, the wind and the small wing foiling crew that is rapidly growing will be there to cheer you on.

Get into Wing Foiling HERE!


KiteBeach: Kite beach can also be your best friend or your worst nightmare for some the disciplines that inquire foiling. Great place to learn Kite Foiling with a couple schools that teach around here though not our best recommendation since it is one of the most crowded places to kite in Cabarete. One of the main reasons for this blog is for you to be able to have a place all for yourself. If you want to know more places where you can Kiteboard check out our Ultimate Kiteboarding Guide.

Some of the foild addicts such as our team rider Joselito del Rosario can't let go his new F-One Foil… and when we say let go we mean literally let go. We most of the time ride strapless but since Joselito is all about doing tricks and big airs, he said why not on a foil?

In the photo below you can see him going Crazy with a strapped foil under his foot, otherwise jumping like this would be almost impossible.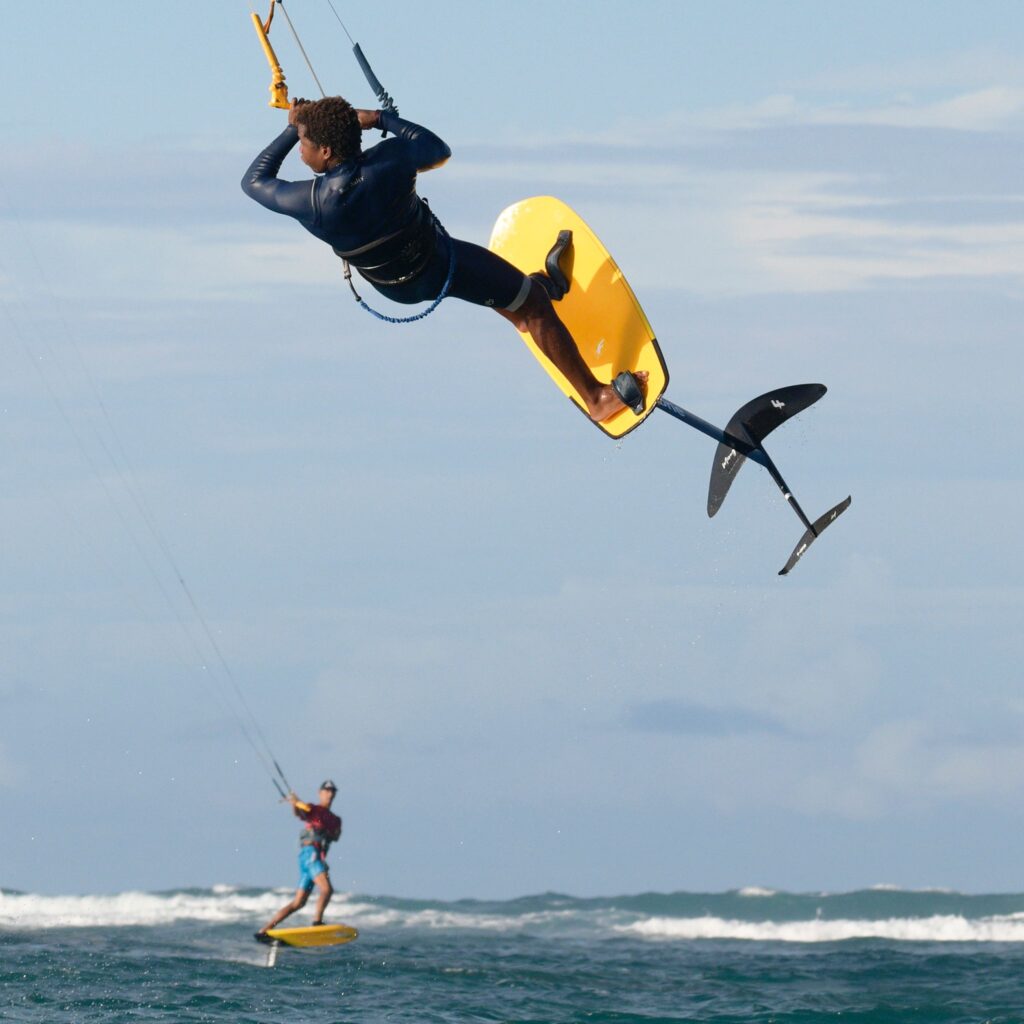 Windsurf Foiling in Kite Beach is a NO GO…..


SUP Foiling: The outer reef to the far left of kite beach right in front of Extreme Hotel, can be quite fun for SUP Foiling in the early mornings, or maybe just SUP Surfing, since there are a few spots where the water is insanely shallow. If considering going there, DO NOT GO ALONE. It is best to go with someone that knows the place quite well and will guide you properly to the peak.

I would not consider surf foiling at this spot, there are better places with less struggle. Lets keep kite beach for the kiters.
Wing Foiling: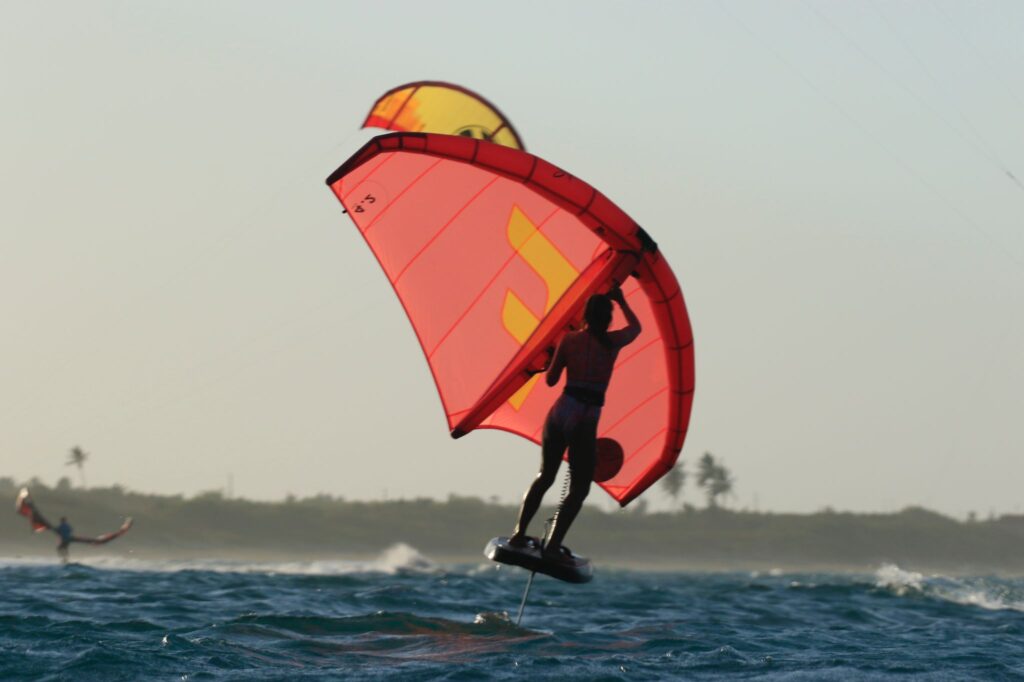 As the community of the wing foilers is growing kite beach could be also a place to learn this discipline, as long you don't pass by the shallow reef and sail by the deep waters you will be good. There might be a few schools that teach though, their procedures are completely different to what you will pursue at Cabarete Bay.


Rocón: You've probably haven't heard of this spot anywhere on the Internet since it's kind of a secret spot. Rocon as the name says it its a spot where most of the land is full of sharp cliff rocks, though there is a small entrance for you to enter the water through sand. This place is most visited by SUP Foilers, and Surf Foilers.
Rocón is located towards the left of Kite Beach passing through the first and second bay, the easier way to make it there would be by going to Coco Pipe main entrance in Encuentro and going through a little dirt road towards the left. If you see some people out in the water around that area you made it.

When going there just keep in mind tide levels, since on a lower tide your foil can get damaged with the bottom of the surface. If you're in need for foiling rental equipment you can send us a message!


Outers: The best spot to learn surf foiling is here, this is where it all starts for beginners, deep water, very limited risk and all depends on you. For surf foiling is best to have 100% some surfing experience since you must know how a wave works and when is the right time to pop up on the board.

At first when generating enough speed to stand up you will feel the board is lifting you, that's the point of it all. Super weird feeling in my opinion and hardly to get it on the first try, so don't worry if you didn't make it keep trying because in this foil discipline practice is key. If you want to progress faster than ever we also have professionals who can boost your foiling techniques faster than practicing by yourself.

During the afternoon you can bring your wing equipment and kite equipment and have a blast around here as well, just keep in mind that when getting closer to shore the best thing will be flipping your foil upside down and paddle into the beach.

Send us a message inquiring about foiling and we will be back to you right away!

Sosua Bay: This could be a rare gem though if you're lucky enough and already experience in surf/sup foiling this spot can be great. Must be here with a north swell for you to even have the chance to encounter something similar to a wave in this spot. In our Ultimate Surf Guide we talk about this place!

At Sosua Bay there is no way for you to practice any foiling discipline that requires wind since the wind is completely blocked by the bay and most of the time is offshore.


Las Terrenas (Coson/Playa Bonita): We can't get tired of this, but we have to say it is one of the most beautiful beaches in the Dominican Republic. Surrounded by Palmtrees and the best of all is that all watersports can be done here and a bunch more of activities.


Recently we made a trip to Las Terrenas and it was one of those trips that we did it all! From Surfing to, Kiteboarding, Kitesurfing, Wing Foiling, Prone Foiling or Surf Foiling! In other words all types of the foiling disciplines can be practiced here.

The recommendation is when you arrive at Coson or Playa Bonita, study the surface area and if it's too shallow just paddle a bit with the board upside down and jump on the foiling. You shouldn't be too worried anyways since it's all sand bottom, which means it won't damage your foil as badly as if it was a reef bottom.


If you get to do Winging at Las Terrenas there is a high chance of you being the only wing foiler in the area. As any water sport we practice is always good to have someone next to you in case things go wrong! Anything can happen… If you want to book a trip to Las Terrenas HIT US UP!



Travel Tips

1. Travel with a Crew: Always best to have a group of friends to share a mutual experience
2. If you can afford all types of equipment and have enough space in your car… TAKE IT WITH YOU! You never know what will happen with the wind, or what can come up and you might have a use for it.
3. Make sure you protect your equipment the right way, dismount the foil when done using it and rinse it with fresh water. Do not leave your gear salty or else you will regret the result.
4. For every trip you must have some sort of Sun Protection, SunBum is our choice to go.
5. Maintain the beach or spot you arrive to clean or better than you found it.
6. Take some proper snacks depending on where you are heading, you want to be ready for the worst.
7. HAVE FUN & Enjoy the Moment!
For extra tips & tricks for foiling down below there is a list of all our foiling videos!

Foiling Down and up-winders: You've probably have heard of Downwinders, as it is a common thing to do when you have a big coastline with consistent wind. Down winders on a foil can be Fun and fast! Though did you know that with the foil you have more edge on the board and can literally go back up wind quite easy?

Of course for this type of voyage you will need a lot of experience when doing an up winder. Maneuverability with a kite + Foil or Wing + Foil allows you to go where ever you want as long there is enough wind to push you through!

If you want to participate in an up winder with someone that is looking over you, don't hesitate to send us a message!


Check out these videos and if you like the content feel free to share and subscribe to our channel for more videos like this!