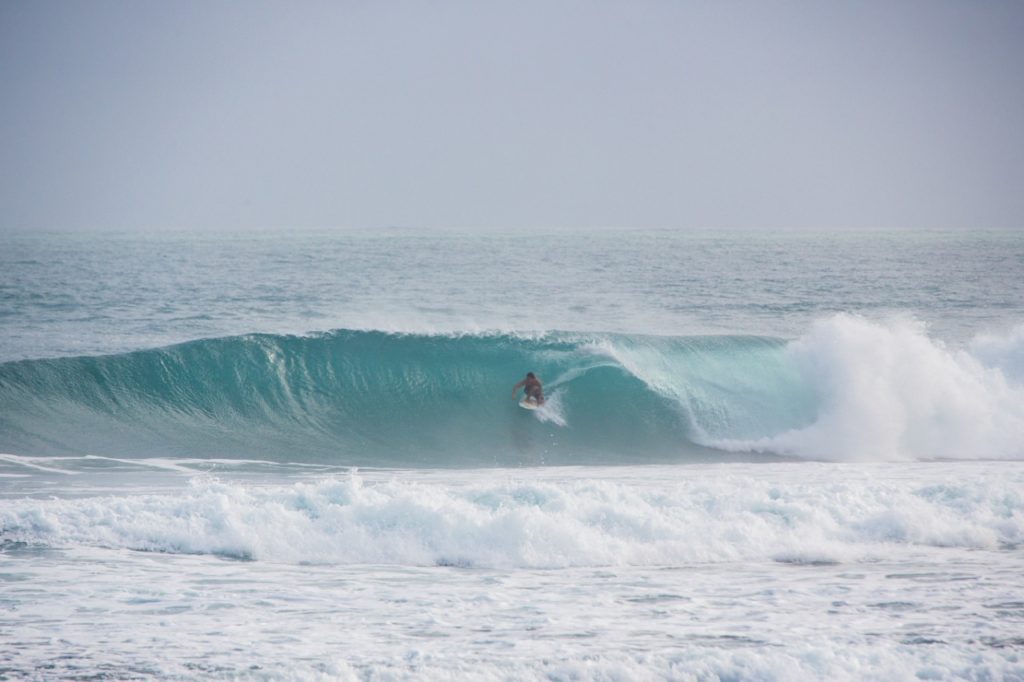 Cabarete is a very well known beach town in the north coast of the Dominican Republic. Is one of the meccas for water sports on the island. Such as Wind Surfing, Kiteboarding, and Surfing.
Cabarete is the perfect place for Surfers to travel. Cabarete has easy access across town, to get from point A to point B.
Surfing in Cabarete is just as famous as Kiteboarding. Surfing in Cabarete can be practiced all year round in Playa Encuentro since there are waves every single day, even the smallest days you can get up on a longboard, foil or SUP.

If you're coming to Cabarete and you are already an experienced surfer and want to surf quality waves we would suggest you come in the wintertime. The best time for Surfing in Cabarete big quality waves would be Octobre – Aprill, which is the hurricane season or what we just call it, ''The big waves season''.Our Wintertime in the Dominican Republic is still warm enough for you to wear bikinis and boardshorts any day of the week.
Early in the morning could be a little chilly and if that's the case in our Liquid Blue Shop we have 1mm tops, that will do the job to avoid the cold winds in your back.

In Wintertime we usually get the best swells of the year, when we get hit by the ''cold fronts'' providing high-quality waves. The waves in Playa Encuentro can be surprisingly big, when the perfect north swell hits the north coast, breaking 2 – 4+ meters tall. Surfers usually love the wintertime since the wind tends to pick up after 12:00 pm which gives you enough time to surf the entire morning and then if still have some energy go kiting in the afternoon. It all depends on what you're really into as well.
When surfing in Wintertime some specific spots tend to break better than others. In this case, would be The Left & Cocopipe two of the best waves of the entire north coast. High powerful wave with a shallow reef, allowing surfers to get barreled often when the conditions apply to it.

The best time to take surfing lessons: In Playa Encuentro, you can take surfing lessons any day of the year,  the conditions will always apply for beginners, intermediate surfers, and advanced surfers. In summer most likely will be the easiest for students to catch their first wave since waves tend to be a lot smaller and they can go all the way to the peak.
NOTE: If you are a beginner and you are learning respect the waves of the local by not paddle in into their wave and avoid any bad experience with them. You will not want to build a bad reputation.
In Encuentro, there is one specific for beginners when waves are small which is called Bobo's Point. There rarely you will be bothered by locals and you will be surrounded by other upcoming beginners that are in the same phase that you are.

There are multiple schools in Playa Encuentro for you to learn how to ride a wave for the first time. To help you choose we would recommend you to check out Pauhana Surf School. It has one of the friendliest guides that most likely you will want to become friends with after learning how to surf.
Friendliness is not the only thing, they are also very experienced in the sport with more than 50 years of experience combined by all the instructors. 

In Summer when the swell hits from the east and finger crossed for surfers ''no wind'', then Mañanero will be an awesome spot to go surf. Breaks incredibly perfect when the swell comes from the east. Mañanero is a 10-minute ride out of town beach break. It is the surf break on the other side of La Boca.


Mañanero is not a wave for everyone, you must have some surfing level and you must be able to stand up quick since the waves are really fast compared to ''La Derecha'' of Encuentro.
Mañanero has its name due to the conditions it requires which means '' early in the morning''. This means take it easy on the night before and get well-rested, you will want to arrive at Mañanero around 6:00 am when the sun rises. If you get to surf manianero with perfect conditions, over-head, and barreling we will promise you will not want to get out of the water till you wear off!
 Cabarete overall, is a water sports paradise, for anyone who is trying to visit, we will say that the best time to visit  Cabarete is NOW, if you're into doing watersports then we will guide you according to what's best for you at the moment! This being said, CONTACT US if you have any questions and we hope to see you soon!!