Embarking on to a new adventure, your instincts told you that there must be something special about the North Coast of the Dominican Republic, and you had to find out. You end up in one of the coasts with more water sports action. Cabarete, known as the Meca of Kiteboarding & the area with more consistent waves in the country.
This being said, in Cabarete you can practice all kinds of water sports, from surfing, kiteboarding, windsurfing, Stand up paddle boarding, hydrofoil, you name anything in the water you can probably do it in Cabarete.
Little did you know, there are a few things you must have to fully enjoy what we call,"The Cabarete Lifestyle". Starting of  with the essentials such as  board shorts or bikinis (no wet suits needed), a lycra, (or lots of sunscreens) polarized sunglasses and sandals.
Here is a list of our top favorite surf shops in Cabarete.
The new kid on the block, the Liquid Blue concept store has been around for a little under two years, providing the surfers of Cabarete with all the best of lifestyle, water, and sports apparel, gear, and accessories! Located in the heart of town (next to Helados Bon), this rad little shop has your eyes wandering and body moving from the moment you walk in. Styled with a modern beachy interior.
The store is known for carrying quality brands such as Hurley, F-One, Manera, SunBum, Futures, Corkcicle, and more. This shop is well-prepared to supply you with everything you need to enjoy a perfect vacation in Cabarete.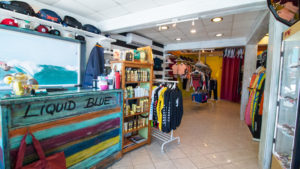 Liquid Blue Shop, Cabarete

Liquid Blue also has a great variety of  backpacks, totes, and board bags for sale, so there's no chance of you being ill-prepared. Do some good to the world and combine your new items with a pair of the first sustainable sunglasses ever made, Proof Eyewear! 
Can't wait to show off your new gear? Do some kite or paddle on Cabarete Beach and show others how to do it!
Hours:
Mon – Sun 10:am- 6:pm

CARIB WIND
Carib Wind, the most well-known surf shop in Cabarete and on the East end of town, is easily recognizable by its surfer on the roof.
This surf shop, has a wide range of stock from fashion to specific hardware. They carry brands like Billabong, Quicksilver, FCS, Cabrinha, Volcom, Oakley, and Dakine- so you have a wide range of board shorts, bikinis, clothing, watches, and sunglasses to choose from.
This surf shop, also offers bags and luggage, so you have no excuse to go all out!  Carib Wind is also your first port of call for specialty items since they also stock accessories and parts for kayaking, sailing, body boarding, snorkeling, water-ski, and SUP.
STAR KITES STORE
Located in the beginning of the main center of Cabarete, next to Hotel Villa Taina,  on the left hand of the road if you're coming from Sosua- Cabarete.   The shop offers the latest Star kites, bars, boards, bindings, harnesses and spare parts for the brand. They also have a variety of Mystic harnesses, impact vests, leashes and board bags. 
For our surfers, they have a great supply of traction pads at a great price and quality, FCS fins and Sticky Bumps surf wax.
In addition to that, this shop has great quality body boarding equipment such as leashes, fins and body boards. To put the cherry on the top, they have a mix of lifestyle and sporty sunglasses!
Hours:
Mon – Fri 9.00am to 1.00pm and 2.00pm to 7.00pm
Sat 10.00am – 12.00pm and 2.00pm to 6.00pm

As far as surf shops go, the aforementioned should be your first picks! However, there are a few more in town, so feel free to explore and share your thoughts on Facebook or Instagram!
Let us know which are the best surf shops in Cabarete According to you!!